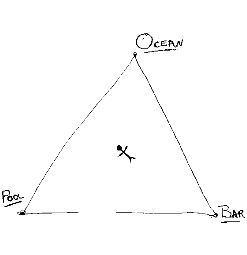 My winter vacation has traditionally been in a location where I can indulge in my favorite pastime: marathon triangulation. For those you who do not know how to triangulate, this simple but accurate diagram at left will help explain.
That's me in the center, equidistant from the ocean, the pool and the bar. I am lying on a chaise lounge. I roll to my right, let's say, and take a dip in the ocean. After returning to my chaise lounge for a decent interval — say, 10 minutes — I roll to my left and take a dip in the pool, from whence I return to the chaise lounge. After another 10 minutes, I roll forward and go to the bar. This process goes on from when the first rays of the sun strike the golden sands of the beach, until the smoldering orb sets in roseate splendor — hence the appellation "marathon."
Of course, the diagram is an over-simplification. The resort where I stayed during my most recent vacation on the Pacific Coast of Mexico had two pools and two bars, thus exponentially increasing the complexity.
Some of you may be thinking, "All well and good, old horse; triangulation provides vigorous physical exercise, but where's the intellectual stimulation?" This is more than enough of an intellectual challenge for me, let me assure you. First off, there is calculating the precise center of the triangle. The slightest surveying error and one can find oneself several feet closer to the pool than the ocean, or, God forbid, several feet farther from the bar. Then there is the artistry of creating elegant variations in the rotation. Even in the elementary ocean-pool-bar formation, a master triangulist can weave patterns of dazzling intricacy.
For example, there is: ocean-pool-bar-ocean-pool-pool-bar.
Or this pattern: pool-bar-ocean-bar-pool-ocean-bar.
Novices often make the mistake of too many visits to the bar too early in the triangulation, and are hors de combat by lunchtime.
Finally, and most importantly, there is the question of what exactly to order when one arrives at the bar. On my most recent outing I took turns imbibing something called Azul Profundo (vodka, Cointreau, Blue Curacao, freshly squeezed lime juice, splash of Sprite, served straight up in a tall glass) and a rum-based concoction consisting of light rum, the strained juice of freshly squeezed limes muddled with sugar, a sprig of mint and soda, served on the rocks in a tumbler.
Even while participating in this most strenuous of sports, one can remain a dandy. It has been written in these virtual pages that the mettle of the contemporary dandy may be gauged by how well he dresses casually. While casual dress presents its own peculiar circumstances for a dandy, nevertheless it only takes a little thought and attention to detail to distinguish oneself in these days when, at the word "casual,' the modern male comes dressed in tee shirt, trucker hat and flip-flops.
This vacation I put my theory to the test under the most extreme conditions: I packed nary a jacket, tie, long-sleeved shirt, or pair of socks.
How did I remain dandified? Let's start with beachwear. The most important thing in the choice of bathing suit is length. Avoid boardshorts, square-cut briefs, and speedos and go for the classic boxer trunks, but with a slightly shorter inseam than the traditional boxer trunks. The shorter length gives a younger and trimmer look. Cary Grant wore this style in "To Catch a Thief." (Indeed, one cannot go wrong copying the entirety of his wardrobe in that movie as one's resort wear.) For covering up, pack two terry cloth tops. They should button like a shirt, not with a zipper, and blend with, but not match, one's trunks. Otherwise, you'll look like some alter cocker lying on the beach in Miami.
For shirts, avoid the commonplace polo. Go instead with linen or silk camp shirts. If that choice seems too boring, spice it up with a scarf or ascot. For vacation flair, instead of the trite Tommy Bahama-style tropical print, try a linen or cotton Guayabera, vulgarly known as the Mexican wedding shirt. Stick to natural or white, as the shirts are prized because of the intricacy of the embroidery rather than garishness of color. The best are from La Casa de Guayabera, located in Miami, and retail for $180-$250. One can also get away with (and quite stylishly, I might add) one type of collarless shirt — the horizontally-stripped sailor's shirt, especially when rakishly paired with a scarf, a favorite of the Duke of Windsor while on vacation, and also sported to effect by Mr. Grant in the aforementioned "To Catch a Thief."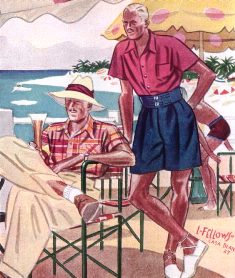 For shorts, I recommend ghurkas, with their characteristic high waist and self-belt closure. They are especially flattering for those who have worked on their abs. Bill's Khakis sells a utilitarian version online. A more elegant version, fit for a dandy, is sported by this gentleman in this '30s Esquire illustration.
For evening, opt for silk or linen slacks. The color of choice is white or off-white. They are so quick to soil that either you must have them cleaned after nearly every wear or else buy them in bulk. Either way, they will stamp you as a dandy. I prefer off-white trousers with a thin navy stripe, just to add some interest. Hold up your trousers up with a silk ribbon belt from J. Press. If you think that you can pull off the "Full Astaire," wear a silk tie around your waist instead.
Instead of sandals, shod yourself in rope-soled canvas espadrilles. I have about a half-dozen in various colors. During the day, but away from the water, wear leather espadrilles for a slightly less sporty and more put-together look. I have a tan leather pair with thin wooden soles. Always acceptable, if unimaginative, are canvas shoes, either tie or slip-on. At night, try a leather slip-on in a soft leather, like deerskin, or the reliable feather-light Belgian Shoes, or woven leather slip-ons. All can be worn comfortably without socks. For a slightly less dressy look, I have a pair of tightly woven basket-weave black suede shoes from Arche, a French brand.
Add sunglasses and hat in whatever style (except baseball) that complements your features, and there you are: casual and tropical, but undeniably dandy.