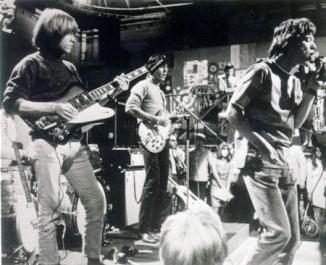 "Does a dandy listen to rock 'n roll?" a young dandy asked in the forum. The answer is simple: A dandy listens to whatever he damned well pleases. The more pertinent question is "What does a dandy wear when he listens to rock 'n roll?"
I have attended Rolling Stones concerts for over 40 years (now you know why I'm called the Lion in Winter). I've always dressed in my dandy best for them. Doing so was not without its risks, particularly in the '60s. When starting out, the Stones were promoted as the grungy alternative to the Beatles. In a sense, the Stones were the first grunge band. The early Beatles wore tailored, if lapelless suits, and had clean, if shaggy, hair. In contrast, the Stones wore scruffy, non-coordinated outfits. Nor did they seem to follow the Beau's dictum regarding the importance of hygiene. Jagger was not yet a fashion icon. Certainly, they played most undandy-like music and attracted a most undandy-like audience.
How, then, to adapt to this rock'n roll environment while dressing with the usual flair? How to be elegant, yet avoid being an object of derision or ridicule of, say, the Hell's Angels, who from time to time acted as concert security?
The answer has always involved a judicious editing of my wardrobe, digging deep into my closet and wearing less-used pieces, even my "mistakes" that have been relegated to the back. And, perhaps most importantly, using the staples of my attire in inventive ways. My attire at a Stones concert has changed over the years, but there has been one constant: It has always taken its inspiration from one of the members of the band, capturing the spirit of the Stones yet remaining true to dandy traditions.
When I was a teenager, I took my inspiration from Mick. In the mid-'60s he dressed very calculatingly in a scruffy working-class style to compensate for his middle-class upbringing. He performed typically in a loose crewneck sweater or collarless shirt and nondescript pegged pants. To construct my own dandy equivalent of Mick's working-class outfit, I abandoned my usual preppy casual uniforms of tweed sports jackets, navy flannel blazers, flannel trousers and penny loafers and based my look on a very practical and serviceable fabric with a regal name — corduroy. It is also a fabric that, depending on its tuff and wale, can have a soft and smooth texture approaching that of velvet. I wore a corduroy jacket and trousers. Not a corduroy suit, mind you: I matched a very dark brown sports jacket with olive trousers. Instead of a shirt and tie, I wore a light-brown turtleneck, a turtleneck being the hallmark of sailors and stevedores, although perhaps not knitted in cashmere, as mine was. I shod myself in what would normally be considered a mistake: a pair of sand-color suede desert boots by Clark. For a touch of elegance, I inserted in my sports jacket breast pocket a green paisley silk handkerchief, displayed in a puff fold rather than my usual carefully articulated points. There I was — distinctive, but not aberrational.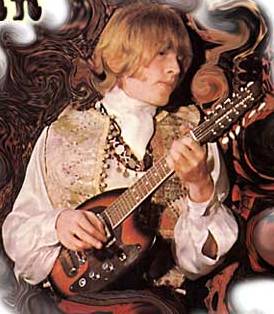 By the late '60s, Mick had moved on to "flower child" fashion offstage, while onstage had donned his Jumpin' Jack Flash costume. He was therefore ruled out as a continuing inspiration. My own customary concert-attending grab of a pinstriped suit would have been unsuitable. I therefore turned to Brian Jones, even though by the time the Stones were touring the US he had first left the band and then died.
Brian's last vibe was psychedelic with a dash of the Neo-Edwardian. I was never afflicted with retro-eccentricity, so I had never acquired velvet jackets or even Liberty print shirts. I went out especially and added to my wardrobe a second-hand velvet smoking jacket and a frilly shirt, and paired them with items already in my closet: velvet slippers, an ascot, and — I must confess, a weakness of mine at the time — bell-bottomed trousers. Not that it really mattered how I looked, since my fellow concertgoers' senses were sufficiently deranged that no one could focus long enough to form a fleeting, let alone lasting, impression of how anyone else looked.
In January I attended my most recent Stones concert. Looking hip or au courant at my age requires great sensitivity. Nothing makes an experienced gentleman look more ridiculous than straining to look contemporary. I therefore turned to the Stones' drummer, Charlie Watts, for inspiration.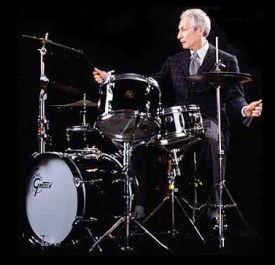 Charlie has always been the backbone of the Stones. While Mick struts and Keith riffs, Charlie holds everything together and never misses a beat. While during the course of the two-hour concert Mick takes off the two numbers that Keith traditionally sings and Keith trades leads with Ron Woods in many of their songs, Charlie plays the entire time.
In his understated way, he is also the best dressed of the Stones. Mick has said that when the band formed the other members considered Charlie the coolest. The oldest by a few years, he was the only one with a job and therefore wore suits. Then he favored the hipster cut of the American jazz artist. Now he favors slim-fitting bespoke suits, reportedly by Chittleborough & Morgan of Savile Row.
Emulating Charlie, I aspired to look my age, but still be hip and well-dressed. The staples of my wardrobe, three-piece suits and double-breasteds, are too precise, angular and tailored. So I turned to a gray, Italian-made two-button RTW suit, with a barchetta breast pocket, besom side pockets without flaps, and a soft construction. I accessorized with a French blue shirt with barrel cuffs (instead of my usual French cuffs), no tie, and a belt instead of suspenders. My breast pocket fold was a reverse puff: The puff end was inserted into the pocket, while the points were inserted upwards and left long so that they drooped over the pocket like the petals of an orchid. My shoes were more casual than my usual cap-toes with thin, beveled-waist soles — black suede bluchers with a more rounded, fuller toe and a thick rubber sole.
I confidently took my seat at the Stones concert. The crowd looked as motley as ever. I was, in the Stones' lexicon, if not exactly a street fightin' man, definitely a man of wealth and taste.