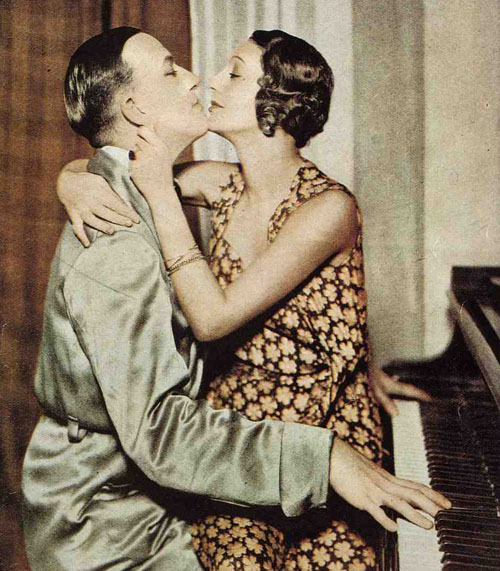 Noel Coward had more than just a talent to amuse: He could also boast a prodigious knack for flouting convention, lifting wartime morale, and embodying his age to such a degree he was dubbed "Destiny's Tot."
He also had a talent to inspire, and set to typing the prolific phalanges of Robert Sacheli, who returns to our e-pages fresh from his dashing debut "A Nero of Our Time" (see below). Now, in honor of Coward's birthday, Sacheli opines on this most modern of dandy-artists, who with cocktail in hand washed down "the bitter palliative of commercial success," redefining the celebrity personality for ages to come.
Joyeux Noel
By Robert Sacheli
The dressing gown was the perfect camouflage. Luxurious, sensual, and slightly louche, it's a garment made for activities no more strenuous than arching an eyebrow, no more serious than a seduction, no more practical than mixing a cocktail. Noël Coward, whose birthday we mark on December 16, presented his talents to the world with silken ease for more than 60 years. Behind that assured nonchalance, however, was a resolutely industrious philosopher of joy. Like the trio of polite young Italian sailors encountered by a British matron in a bar on the Piccola Marina (who, in one of Coward's 1950s songs, "Bowed low to Mrs. Wentworth-Brewster/Said 'scusi,' then abruptly goosed her"), Coward deployed calculated charm in his seduction of his audiences and could deliver a pinch along with a refined embrace. And, just as the receptive Mrs. Wentworth-Brewster was suffused with "hot flashes of delight," the public eagerly welcomed the adventure."Destiny's Tot" made his entrance into the world in 1899, grabbed the spotlight as a child performer in 1911, and firmly held that glamourous territory until his death in 1973. He was a stage, film and television actor; playwright, director, composer and lyricist; poet, painter, nightclub headliner, short-story writer; and (briefly) wartime intelligence agent. Undeniable and prodigious talent — as well as sheer sustained effort ("I'm a drudge about work, you know") — provided the foundation for his success. But like the comic rhythms of his plays, Noël Coward's exquisite timing had much to do with it.
Coward's early career unfolded in an England, where pre-WWI ideas about morals, class, and sex were trod underfoot in the giddy party that was the 1920s. Celebrity was taking on new prominence, and wider audiences were eager to more intimately know about the men and women who populated the stages, society pages and movie screens. Talent alone no longer sufficed: Personality became the currency of fame.
Noël Coward set out to be a personality, to reach for a fame far more potent than that of the gentlemanly actor-managers who ruled the West End. He wanted stardom in the most modern sense — and within in a few years got it — and found himself redefining the role of celebrity as no other theatrical figure ever had.
[youtube]CYxu_oz_e7Q[/youtube]
Coward knew that shaping an effective public image was critical if he were to move from aspiring playwright and juvenile actor to celebrated author and stage star. He'd always been conscious of the effect of his wardrobe, agonizing over audition outfits in which he'd select a matching shirt, tie, socks and pocket square. "I had not then learnt that the exact duplication of colors ill-becomes the well-dressed man," he would later note. A visit to New York in 1921 provided inspiration for both his work and his wardrobe. The brisk pace of contemporary Broadway dialogue impressed him, and he borrowed the technique in his own writing. He also strongly responded to the casual elegance of American style, and he adopted that new influence as much as his poverty allowed.
As his reputation and funds grew throughout the '20s, the transatlantic chic that became his lifetime signature evolved more fully — although, he confessed, "I was still inclined to ruin a correct ensemble by a flashy error of taste." By 1929, Coward's theatrical success and his confident image as sleekly well dressed man had been celebrated in newspapers and magazines, and he was experienced enough to advise another up-and-comer, Cecil Beaton, how to dress for the public eye. "I take ruthless stock of myself in the mirror before going out," he warned the young photographer. "A polo jumper or unfortunate tie exposes one to danger."
Then there were the dressing gowns. He first wore one as Nicky Lancaster, ravishingly struggling to escape the grips of cocaine and castrating mother in his sensational 1924 success "The Vortex". From then on the actor-playwright was endlessly photographed and caricatured in dressing gowns, which for his fans became a visual shorthand for all that was enviably up-to-the minute in Coward's personal design for living. Coward the actor recognized the robe's onstage allure: "If the part requires one, you couldn't keep me out of it, because they're so comfortable to act in. And they've got swing…."
Coward the playwright found something even more valuable than swing. By wrapping his works and his performances in high style, he was able to put on stage ideas and characters that might be considered unacceptable if presented in the drab guise of realism: Pleasure, promiscuity and drugs among the indolent society set ("The Vortex"), the sexual bond of emotional soul mates trumping the dull, conventional bond of marriage ("Private Lives"), and the bohemian freedom to find fulfillment in more than one lover's (or gender's) arms ("Design for Living").
By 1939 he was even able to caricature himself in "Present Laughter" as matinee idol Garry Essendine, whose dressing gowns were a silky cocoon of ego. But before the play could be mounted, World War II intervened. Coward again seized a shift in the times to reshape his work and his celebrity. He was always proudly British and unrepentantly monarchist ("Land of Hope and Glory" drowns out the discord of "Twentieth Century Blues" in the 1931 upstairs-downstairs historical epic "Cavalcade"). Now, however, the cocktail-party Puck became a full-on patriot. He toured Australia and New Zealand for the armed forces, dabbled in some light continental espionage, and translated the attack on his friend Lord Louis Mountbatten's naval destroyer into the cinematic battle cry "In Which We Serve." He could compose a hymn to his Blitz-battered city, "London Pride," that sounded as if it had been sung for generations, yet he could also tweak the sorry state of civilian defense in "Won't You Please Oblige Us With a Bren Gun?" and make an ironic plea for postwar civility in "Let's Not Be Beastly to the Germans" ("It was just those nasty Nazis who persuaded them to fight/ And their Beethoven and Bach are really far worse than their bite"). A new pair of lovers came to symbolize Noel Coward-style romance in the 40s. He adapted a one-act from his "Tonight at 8:30" cycle into the screenplay for the hugely popular melodrama of near-adultery "Brief Encounter," with Trevor Howard and Celia Johnson as genteelly suburban as Coward and Gertie Lawrence were polished and worldly in "Private Lives."
In Coward's greatest wartime hit "Blithe Spirit," however, the precise and polished mix of champagne-bubble wit and ardent sentiment finds its most masterful blend. This comedy of death was Coward's most successful West End play, entertaining audiences during the years when the chilling realities of war were lurking just outside the theatre. It is Coward's most solidly plotted play, a Feydeau farce with doors slamming on both earthly and astral planes. Its comedy harbors a core of wistfulness, one that recognizes death, guilt and loss, but — despite a healthy dose of skepticisism — also suggests that memory, love, and belief can still hold some sway over the cosmic inevitables. "Blithe Spirit" was Coward at his most assured as playwright, a work perfectly tailored to its audience and its time.
The fortunate sense of timing became less dependable during the 1950s. Coward could never recreate the golden triumphs of the past decades, and the luster of his operettas, musicals and comedies appeared gaudy and irrelevant in austerity-gray postwar Britain. Flops abounded, among them the melodic but ill-conceived "Pacific 1860" and "After the Ball," a musicalization of Wilde's "Lady Windermere's Fan." He enjoyed moderate success with 1951's "Relative Values" (undervalued Coward at his most Shavian, with a movie-star-marrying-nobility plot that features a pair of Eliza Dolittles — one willing and one reluctant — and an all-knowing butler who echoes the Waiter in "You Never Can Tell"). As the decade progressed and the Angry Young Men took over the stage, dressing gowns and martini-dry quips had no place in the grimy bedsits where the newest crop of innovative dramas were set.
[youtube]4l2b-fBvccw[/youtube]
Reinvention again was the key to survival. If the image of Coward the celebrity had overshadowed Coward the playwright, then he would simply acknowledge the fact and console himself with what he called "the bitter palliative of commercial success." In 1952 he triumphed in cabaret at London's Café de Paris and rose to the dialogue-heavy challenge of Shaw's political extravaganza "The Apple Cart" on the West End. Then America, or at least that part of it called Las Vegas, beckoned again. Audiences eager to share a little of the Coward magic packed the show room of the Desert Inn, and he graciously consented in two shows nightly for five highly lucrative weeks. If the sly innuendo of some of his songs had dated (the decorous naughtiness of "Alice Is at It Again" sounded less spicy in an era when Marilyn was at it in Cinemascope), well at least he was still the most sophisticated man in the world. Television "spectaculars" and film roles kept him in the public eye throughout the 50s, further burnishing his image at home and abroad as one of England's most valuable exports.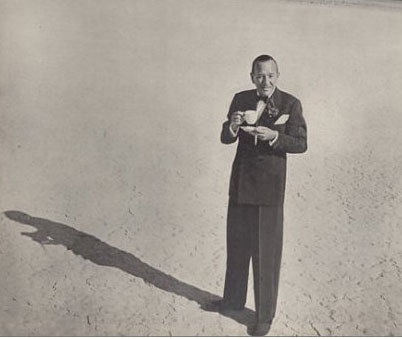 Noël Coward had one more transformation to make, a final-act twist that restored the balance between personality and respected theatre artist. The starry 1964 revival of "Hay Fever" he directed for the National Theatre launched what Coward came to call "Dad's Renaissance." The final years of his life found Coward acknowledged among critics and audiences as a major 20th-century artist, one who defined a vanished world of particularly English glamor, wit and feeling. His most lasting works — not the least of which was the image he crafted for himself — are still capable of making that world a place where people long to be. The swank and sophistication are, of course, among the attraction. John Lahr offers another take on why Coward endures: "It is the frivolity in his plays that has proved timeless. The reason is simple. Frivolity acknowledges the futility of life while adding color to it."
The cover of "Noël Coward at Las Vegas," the recording of his Desert Inn performance, captures his eternal essence. He is alone in a starkly bright, parched desert landscape, impeccably if incongruously clad in a double-breasted dinner jacket, a carnation in his buttonhole and white silk spilling from his breast pocket. With a teacup in one hand, a saucer and a cigarette holder in the other, he appears at once alien and perfectly at home. Noël Coward was and remains an oasis of style and color and frivolity — in the lightest and most serious senses — in the ever-widening wilderness.