Sunday's indolent pre-noon hours usually find me with energies sufficient for only the least demanding of a gentleman's morning-after rituals. These include things like burrowing over the Berber in search of an errant cuff link, squinting to determine if my favorite piqué-front shirt will bear permanent reminders of last night's claret, or straining to remember to whom I now owe lunches, apologies or foolishly large sums of money.
So imagine my jolt when, idly leafing through the March 11 Sunday Styles section of the New York Times, I saw the ensembles of the male attendees at the recent Fashion Week shows in Bryant Park. These included eye-popping Op-Art suits; a mid-calf kilt, cutaway, and boater; full-length ladies-who-lunch furs and matching hats; and a vested, side-vented suit topped by a trapper hat.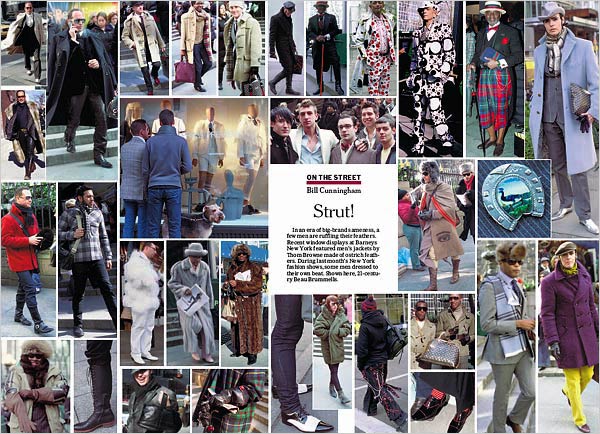 But what really caused me to spill my lapsang souchong? These "men dressed to their own beat" were anointed as "21st-century Beau Brummells."
Not bloody likely. Call them poseurs, provocateurs, canny conceptualists, or simply insane, but dandies they're not.
Do they look familiar? Flip your fashion scrapbook back to last April, when the oddballs, the outlandish, and the caricatured were christened "Just Dandy" in another Sunday Styles costume roundup.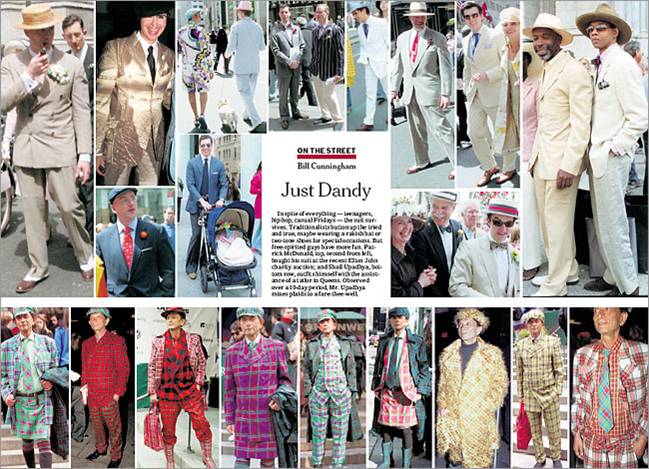 Featured in both spreads are club denizen Patrick MacDonald and Shail Upadhya, the diminutive former diplomat, described by the always-perceptive Kashish D. Shrestha of The Nepali Times as being "as close as a Nepali has come to being a celebrity in New York." They are the Times' house dandies.
In the top spread, MacDonald is the one brightening things up in acid-yellow trousers, a plum-colored double-breasted coat and a slouch cap. He's aided by his signature eye makeup, a festive maquillage reminiscent of an '80s British glam band and Elizabeth Taylor in "The Sandpiper." He's reportedly a sweet man in person, but hardly an exemplar of contemporary dandyism.
Upadhya is the repeat offender who gets an entire row to himself in the second spread. He looks like he's forlornly trying to make his presence known over the visual din generated by the oversized geometric patterns fighting it out on his suits. The ballsy Ringling Brothers-meets-MOMA vibe of Mr. Upadhya's outfits must certainly make him visible to New York City cab drivers.
It's unlikely that either of them will be playing a quick game of touch football with the $195 black-and-white Chanel ball that the Times featured in its spring men's fashion edition of its Sunday magazine. Among the other ballyhooed booty is a thousand-buck gold plastic hat.
For every interesting story — Camilla Akrans's handsome portfolio of sportswear photos in the sleek spirit of Hoyningen-Huene, brief pieces on the classic Belstaff leather jacket, and Herbert Muschamp's pilgrimage to Rome for Battistoni ties — the Times inflicts three others on the order of "Get Shorty," which focuses on a supposed "craze for tailored shorts" ignited by Thom Browne. (The blond model in Mr. Browne's double-breasted shorts suit looks like the biggest Von Trapp kid ever.) If you thought the pranksters who masterminded the disco-vampire evening wear shoot in last fall's style issue couldn't outdo themselves, take a look at "Lone Wolf." In six hilarious pages we get wolves (real, stuffed and Photoshopped) communing with a heavily tattooed, mascaraed Mowgli, and the recommendations for "distressed threads and piled-on man jewels" make you look less like an "urban iconoclast" than the dazed survivor of a plane crash.
So what's really wrong with this men's fashion picture? There's little real-world clothing — read that as simply as anything someone with a modicum of taste, maturity, and nearly normal eyesight would actually consider wearing — that editors can make new or interesting. How many times can wider or narrower ties inspire witty headlines? Cuffs or no cuffs? Who the hell really cares? It's far easier for the Times to cede its pages to attention-grabbing gimmicks, coy captions and preening dupes.
No matter how often these inevitable stories are sprayed with the scent of dandyism, they always stink of desperation.