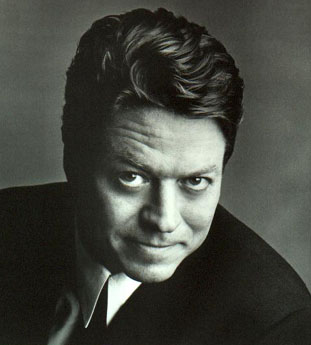 D.net is dedicated to the proposition that the dandy still reigns supreme in matters of taste. Yet we sometimes act as if the last dandy was killed in the London Blitz.
This error especially crops up with music. I'm the first to prop myself up against the upright, cocktail in hand, and croon whenever Chenners starts to torture the ivories with Porter melodies and Coward ditties.
Let's not forget, however, that the dandy troubadour did not pass away with Ivor Novello or Charles Trenet. He continues to this day, even in the most hostile of environments: rock 'n roll.
There are few dandy rock stars, but then again the dandy is a rara avis in any field. At one time or another, for one reason or another, Bowie, Bryan Ferry, Andre 3000, Prince and Morrissey have been labeled dandies. Most of them are too over-the-top to merit the appellation, but I would admit all of them to the Dandy Club. After all, we need the dues.
One rock singer of whom there can be no doubt is the late Robert Palmer. Palmer had an exquisitely tailored and contemporary look. He was elegant, not costumed — no eye make-up, glitter or pirate outfits for him. He also maintained the requisite dandy cool while rocking. Palmer was the dandy with a backbeat.
Palmer's video for "Simply Irresistible" shows him at his most dandyish. He is dressed with Brummellian austerity in a black two-button suit, white shirt and silver tie. The song has a strong beat and his voice is raw, but he always remains under control.
[youtube]M3geoXOdnJQ[/youtube]
Palmer returns with the same girls but a different tie in "I Didn't Mean To Turn You On."
This live version of "Bad Case of Loving You" demonstrates why he is a dandy and Paul Shaffer isn't.
[youtube]rwv7FYqV2Wo[/youtube]
Palmer goes monochromatic in his video of "Every Kinda People," and he dons black tie and engages in the dandy pastime of gambling in the video for "Some Guys Have All the Luck."
The medley "Mercy Mercy/I Want You" has more of an aesthetic look, while the video for his rendition of the Gus Kahn/Walter Donaldson standard "Riptide" has an elegiac feel.
In "Bang a Gong" Palmer appears relatively briefly. His cool as Power Station's frontman contrasts nicely with the heat from Tony Thompson's tattooing of the skins, the romanticism of the boys playing hooky from Duran Duran, and a literally smokin' transvestite.
Last up is Palmer's biggest hit, "Addicted to Love." Here he does something unpardonable in lesser dandies: He removes his jacket. His gestures are mannered, but the models add a detachment and hauteur that complement any dandy.
[youtube]C4EJkI3hN0w[/youtube]