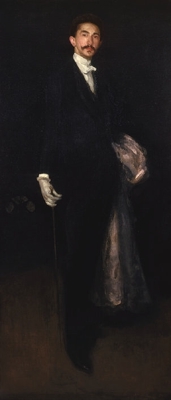 "I know very little of Robert de Montesquiou other than he was a poet and homosexual," a reader recently wrote in an e-mail. "Does he deserve a -3?"
The reader is referring, of course, to question 36 of the "How Dandy Are You" quiz, which judiciously awards a negative three points if the real-life dandy you most admire is Marie Joseph Robert Anatole, Comte de Montesquiou-Fezensac (1855-1921).
Yes, dear reader, he does deserve a -3.
We don't deny Montesquiou was a dandy, though he was really more of a decadent aesthete. As if our reputation weren't stained enough, thanks to Monty some people actually think dandies keep jewel-encrusted turtles as pets and like to get dressed up like Louis XIV.
Half Mad King Ludwig, half Michael Jackson, Monty's follies far outweigh his virtues. Yet he is still a fantastic figure from a glorious and gilded era, and so carries an undeniable fascination for scholars of dandy history. Montesquiou has been immortalized as three of the most bilious characters in all of literature: Des Esseintes, Baron de Charlus and the Duc de Freneuse, otherwise known as Monsieur de Phocas. There's also no denying Monty's tremendous physical elegance. And he threw swell parties.
Montesquiou was a "royalist, social snob, literary dilettante and Symbolist poet… of sorts," writes Cornelia Otis Skinner in "Elegant Wits and Grand Horizontals," her delightful study of the Belle Époque.
"Slim and graceful as a Siamese cat, he was absurdly handsome, with dark, wavy hair and a silky mustache beneath a proud Roman nose which Jules Renard in his gleefully acid journal likens to the beak of a bird of prey nurtured on vanity. Most people found Robert de Montesquiou fantastically absurd. Yet many toadied to him for he had entrée everywhere, through the doors of the most exclusive clubs and restaurants, into the drawing rooms of the Plaine Monceau, past the crumbling posterns of the old aristocratic houses of the Faubourg Saint-Germain."
Now you can read her entire chapter on Monty's life and times in The Library.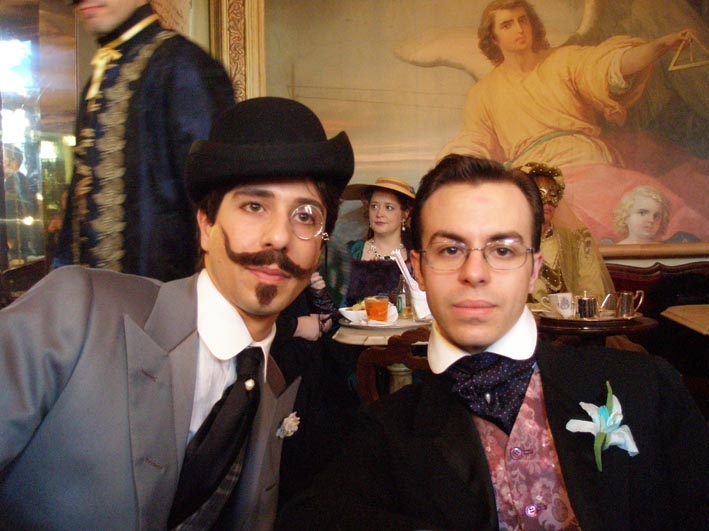 In the photo at right you see the pernicious effect Montesquiou continues to have to this day. The photo is from the blog of Andrea Sperelli, an aesthete and historian of dandyism. In an hommage to the count, Sperelli's companion on the left not only dons Montesquiou's signature gray costume, he also puts on a fake mustache and goatee.
Montesquiou is also an avowed influence on our friend the etiolated and emaciated Mr. Wittelsbach.
One of the count's many portraits serves as the avatar of Wittelsbach, who actually dresses like this of his own free will: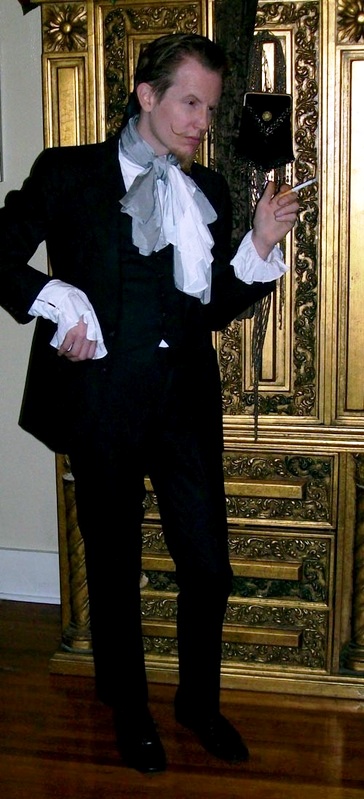 Like we said, if Montesquiou is the man you most admire, you get a -3.