Dandyism recently made a jaunty appearance at New York Fashion Week. Unfortunately it was on the runway of a women's fashion show.
Ralph Lauren's Spring 2008 ready-to-wear collection showcased a number of outfits echoing Brummell and Beerbohm: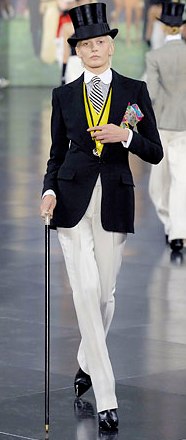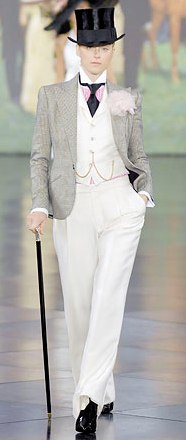 The ensembles are bound to rekindle the vexed question of whether women who raid men's closets are really dandies, or merely females in drag.
On one side, professional provocateurs like Sebastian Horsley portentously pronounce, "The key attribute of dandyism — detachment — cannot come from someone with a womb." This misogynistic attitude dates back to Baudelaire, who wrote "La femme est toujours vulgaire, c'est-à-dire le contraire du dandy."
He then described in very vulgar terms exactly why women are vulgar.
On the other side, gender activists like Jack Dandy insist not only that women can be dandies, but that they're better at it than men. This in flagrant disregard of 200 years of literature and scholarship on dandyism in which women play no part in the Brummell-D'Orsay-Baudelaire- Wilde-Wolfe continuum. And assuming women can embody the male archetype of dandy, is their dandyism dependent upon wearing men's clothing?
Then there are the feminists and queer and gender theorists who, after much unbiased scholarly research, reach the foregone conclusion that women can be dandies because they can be anything they put their minds to.
The ironic thing is that all three viewpoints entirely depend on the dandy being a man.
Horsley and Baudelaire because they say so; Jack because she dresses like a dandy precisely so that she can dress like a man; and the academics because the dandy's significance to gender studies lies in that he is a man who adopts certain characteristics that a gender-biased society arbitrarily perceives as feminine.
You may accuse us of being practitioners of the politics of exclusion (and some have), but we believe only men can be dandies, just as only women can be nuns.
Take a look at the photos. We can see that the women are dressed in imitations of menswear altered for the shape of women's bodies. They are essentially women in drag.
But drag means something very different when applied to women than when applied to men. Women can and do dress ironically because they can wear men's clothes and yet retain a feminine, if piquant, sexuality. Marlene Dietrich, for example:
[youtube]_oNkwYQkoEw[/youtube]
A man dressed in women's clothing, however, forfeits his manhood, which is why scenes depicting this are common in comedies. Shakespeare wrote "Clothes proclaim the man" because they really do proclaim men, and manhood, in a way they don't for women, for whom everything is ultimately just fashion.
In the end, the question of whether women can be dandies is pointless. Naturally people are free to dress, act and call themselves whatever they wish. We just reserve the right to criticize their taste.
Which leads us back to the images above. Our judgment?
We've never seen such a charming display of retro-eccentricity.