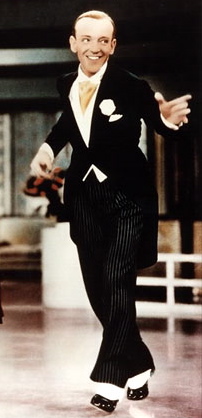 Fred Astaire lounges in a swank London flat, attired in a speckled dressing gown and cravat, musically daydreaming about the girl he's just met. He's smitten, but true to the plots of his films with Ginger Rogers, he doesn't know the girl's name.
So begins the "Needle in a Haystack" number from "The Gay Divorcée," in which dressing becomes dancing and Fred Astaire becomes the superlative dandy in motion.
Drawn to the terrace doors by the line "I've got to find you," Astaire's reverie is interrupted by his valet, who presents a selection of ties and a mirror. Off comes the cravat and dressing gown. Astaire momentarily considers a tie, then selects another. After knotting it and fixing it in place with a tie bar, he absentmindedly begins to tap his suede shoes, still wondering where his anonymous crush might be.
Gradually the desultory taps expand into a dance that grows in scale and energy as Astaire dons each new item of clothing. On goes the suit jacket, the boutonniere is put in place, and suddenly he's leaping over the sofa, bursting with optimism. The taps, increasing in intensity and rhythmic complexity along with Astaire's resolve, propel him farther and farther, punctuated by a series of balletic beats.
The music and the movement reach their crescendo and Astaire is aloft again, gently landing atop the seat of zebra-striped chair, where he deftly catches a bowler and a furled umbrella from his man. Back on the floor, he bids goodbye to his valet with a gentle tip of his hat, then glides out the door to meet his destiny. He is a modern knight dressed for a quest, a man transformed by ardor, dance and fine tailoring into a new kind of romantic hero.

Modern is the critical word, for Fred Astaire's style was tuned to his times. Like the Gershwin songs he sang on Broadway, his style was bright, confident, idiosyncratic, and propelled by the cosmopolitan beat of the city. It was a style for an age and a man in motion.
Mixing the polish of Savile Row with the effervescence of Hollywood, Astaire forged throughout his career a gallery of personal style that remained inimitably his own and perpetually modern.
As you watch the marvelous dance numbers below, let the decades between us and Astaire's movie theatre audiences dissolve. Imagine seeing him for the first time. Take in the wonderful surprise of his dancing and his look, both unlike anything seen before on the screen. To those moviegoers Astaire was boldly contemporary, with a masculine fashion finesse entirely different from other stars. And, to echo one of the Jerome Kern classics Astaire introduced, that's just the way he looks tonight.
Urban Pastoral
Astaire in city tweeds is the most approachable of the fashionable Freds, an almost-regular-guy who inspires us to say, "I can do that." Note the button-down collar, repp tie and suede shoes.
Now notice the hacking pockets of the slim jacket that echo Ginger's riding gear, the balance between the small buttonhole and the discreet pocket square, the throwaway hands-in-the-pocket gesture that shows off the jacket's side vents.
Here in "Top Hat," three years and four films into his partnership with Rogers, Astaire graduates from well-dressed actor to fashion icon just as he and Ginger ascend from popular dance team to movie legends. His casual elegance does the trick, the ease of his attire matching the number's seamless shift from offhand walks and gliding turns into the joyous explosion of one of their most captivating dances.
[youtube]3iMq7GrJ-9c[/youtube]
Theme and Variations
A dancer's natural habitats — the rehearsal room, the stage of an empty theatre, a nightclub during daytime — appear throughout Astaire's films. There's also a recurring look to his outfits, a mixture of the impromptu chic of practice clothes with Astaire's signature approach to sportswear: wide-legged, high-waisted pants and loose shirt, often teamed with a striped tie he would sometimes wear as a belt.
Here he and Paulette Goddard launch into "I'll Dig It" from "Second Chorus." You can spot several Astaire trademarks: spectator shoes, tie tucked into a waistband cinched with another tie, the sporty angle of his tie clip and the fishtail waist of his trousers. Like all of Astaire's rehearsal outfits, this one reflects what makes these seemingly casual dances so thrilling: their sense of spontaneity and improvisation.
[youtube]ImFiNApiJZg[/youtube]
Morning Glory
The official uniform of plutocrats and fancypants, morning dress carried an extra layer of snobbery when Astaire originally wore it during the Depression. Yet whether it's an onstage costume, as here in 1946's "Blue Skies," or part of his character's quotidian wardrobe, such as the unlikeliest of freight-hopping togs in "Swing Time," Astaire manages to defuse its status-bound conventions.
We can't imagine a stuffy Astaire: his warmth democratizes even the most aristocratic of menswear ensembles, while his American energy enables him to wear a high hat without going high-hat. Has any other Yank carried off morning dress as naturally?
And Astaire's dancing here accomplishes the nearly miraculous: He takes a stiff and constricting outfit and kicks it into high gear.
[youtube]zbdoUhwKg7Q[/youtube]
Jazz Rhapsody
Whether fronting a dance band or steppin' out with his baby, Astaire in a tuxedo is the essence of a night on the town. He conjures up a mythical Manhattan where every gentleman dresses for dinner and one particular gentleman looks both footloose and formal. It's a city where someone is always playing jazz piano and the champagne glasses are always full. The fizz on those soundstage nightclubs may be ginger ale and the skyline merely cardboard, but Astaire in black tie is the real thing.
Here in "Roberta," he pairs a single-breasted jacket and white piqué waistcoat with shawl collar, rounded points, and trio of jeweled buttons. This finery shows up in a number of Astaire's films, most often as part of a white-tie ensemble. The watch chain adds flash, the wing collar a Jazz-Age refrain. In subsequent films, Astaire will switch to black silk waistcoats or double-breasted jackets with soft-collared shirts.
Whatever the details, Fred in black tie is the smoothest and most unselfconscious of song-and-dance men. A dinner jacket brings out his elegance and his affability, a seamless and sensational fusion.
[youtube]7oSdBu0JSCE[/youtube]
Mere Formality
If Fred Astaire looks as if he were born in white tie, it's because he practically was.
In a photo of Fred and his sister in their early vaudeville years, Adele's face floats above a mountain of pastel ruffles while little brother Fred gallantly partners her in top hat, white tie and Inverness cape. Though his boutonniere is nearly as big as his head, the kid looks debonair, the outfit worn with precocious aplomb rather than a sense of Tom Thumb dress-up.
On Broadway, in the West End, and in his earliest films, audiences connected Astaire with formal dress. Even as a sailor in "Follow the Fleet," Fred dons a top hat. No wonder Irving Berlin wrote "Top Hat, White Tie, and Tails" for him.
With a ravishing Rita Hayworth and an insinuating Cole Porter pop bolero, Astaire in "You'll Never Get Rich" shows why tails are a dancer's best friends. The white-on-white-on-white trio of tie, shirt and waistcoat channels focus to Astaire's expressive face and contrasts with the black of the jacket and trousers to turn his body into a nearly graphic form. The open jacket frees the arms and upper torso as its cutaway front lengthens the line of the legs. In motion, the tails extend Astaire's energy. At times their angle parallels the sweep of the tulle in Hayworth's drop-waisted full skirt. In this dance full of turns, the tails continue to move a split second after Fred has stopped, a visual syncopation.
But talking about Fred Astaire in terms of graphics, angles and gestures merely describes, not explains. How do you capture the elusive spark of talent, technique, art, personality, fashion and casual genius that produce a man like this?
Perhaps there's no need to explain a thing after all. Just watch and enjoy.
[youtube]Qn7YcPQgPDo[/youtube]