This above all: A dandy must dress like a dandy. Ah, but how does a dandy dress?
It has always been hard to pinpoint, and it certainly changes over time. The great dandies started as innovators and ended as fossils. It is only with hindsight that we can judge who is timeless.
But what identifies a dandy has become even harder to pinpoint today. General attire has gotten so casual, standards so relative, change so rapid. Who's a dandy and who is merely well dressed, who is innovative and who is eccentric, who is classic and who is bland, who is dashing and who is ostentatious, who is stylish and who is slavish — who's to tell?
You, of course.
Below are three men. Use the leave-a-comment feature and tell us who's the most dandyish and why. Don't criticize the minutiae of the outfits: Nobody cares that you would have worn checked socks instead of solid. Focus on the overall issue: does he look like a dandy or not?
Here are the candidates: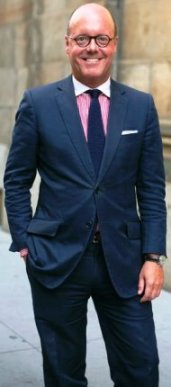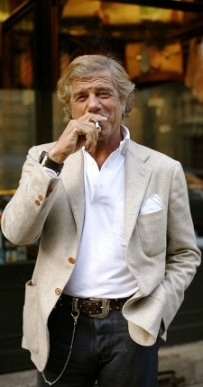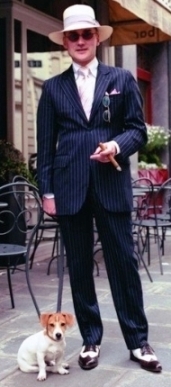 The first gent adheres to Brummell's dictum that "If John Bull turns around to look at you, you are not well dressed, but either too stiff, too tight, or too fashionable." He is understated in a solid navy suit and a squared-off white pocket handkerchief. While John Bull may not turn around to look at him, is he still too stiff or too tight? Especially in a society of track suits, flip flops and trucker hats, dressing up may suffice to look like a dandy, but does he have enough pop?
The man in the second photo reeks of cigarette smoke and spezzatura. His attire is relaxed and informal — polo shirt, jeans and wide belt — but tailored. He has carried the Beau's principle of simplification into the new millennium, but is he elegant enough?
The boulevardier in the last photo believes in color and a flourish of individual touches. He enlivens the standard-issue navy pinstripe with a pink hat, pocket handkerchief and tie, and further accessorizes his ensemble with spectator shoes and two pairs of glasses, one perched on his nose and one dangling from his jacket pocket. Attention to detail or accessory overload? Modern-day dandy or retro gangster?
If your comments are especially canny (or nasty), we'll make this a regular feature. That means we'll run another trio for you to pick apart when we've run out of fresh material, and a post about Willard's preference in shoelaces has been the lead story for two weeks.
Pictured are Robert Burke and Lino Ieluzzi (via The Sartorialist), and an ad for Marc Guyot (via A Suitable Wardrobe).