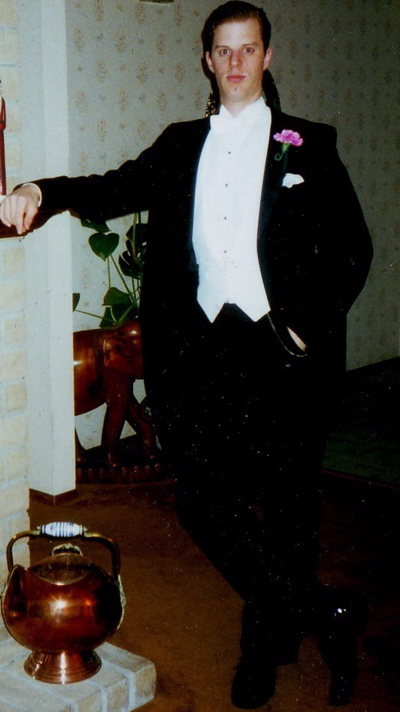 Ten years ago D.net was a mere glint in his diabolical monocle, yet even then webmaster Christian M. Chensvold had a vision of restoring the misunderstood, much-maligned dandy to his rightful place in society.
So he chose the two-hundredth anniversary of Brummell's resignation from the dragoons to publish his pseudo-scholarly, teacup-shattering interpretation of dandyism.
Like a dapper gent charming his way into parties he wasn't invited to, Chenners had been insinuating articles on dandyism into obscure publications since the age of 24. There was Cochran's, a regional antiques newspaper for the Sonoma Wine Country, and Victorian Decorating & Lifestyle, a magazine for Anglophile housewives that went under in 2002, fueled by the rise of Ikea.
At age 27 Chensvold began dating a Deco Belle and was able to talk his way into the pages of The Sophisticate, the journal of the Art Deco Society of California, with an article on Deco-era dandies.
A year later an expanded version of the story ran on Retroactive.com. Unfortunately the site soon disintegrated into the Internet ether, sucking the seminal article along with it.
However, for a time the site was one of the top-five "dandyism" results on Internet search engines, so it's no surprise that several passages soon thereafter appeared verbatim in a certain Brit's breezy instruction book on the topic, without so much as a tip of the homburg.
And so Chensvold's mini-masterpiece joined the statue of Zeus at Olympia and the dodo bird among mankind's lost treasures — that is until now.
Through advanced technology, we were able to retrieve this Dead C Scroll of Dandyism.net, which we now present for your edification and amusement. We have corrected typos and made it conform to the D.net Manual of Style, but otherwise the text appears as it did 10 years ago.
We also found a photo of what Chensvold looked like during the article's composition. He is pictured above stepping away from his desk for a cup of coffee.
Originally planned as a trilogy, the article was hastily expanded to four parts to mollify a cranky homosexual who complained that the first three parts neglected gay dandies. Though Noel Coward and Harold Acton were featured prominently, the reader was no doubt miffed that Chensvold thought their sexual orientation completely irrelevant to their dandyism.
The article gives priceless insight into D.net's conception, not to mention the stories we've been recycling for the past three-and-a-half years. It's also worth pointing out the earnest and fervent tone of the prose (note debt to Barbey in several turns of phrase), compared to the cynical, cold and ironic tone Chensvold espouses today.
 He has certainly evolved into a true dandy.
 • • •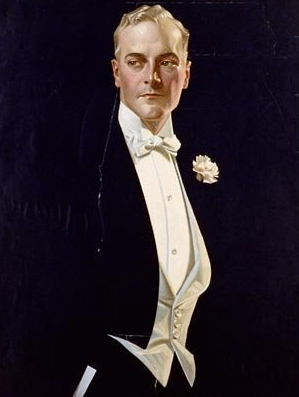 The Deco Dandy
By Christian M. Chensvold
Archetypes earn their recognition. The redneck, beatnik, businessman, starving artist and jock all claimed their territory in the lexicon of cultural literacy, permanently branding their silhouettes onto the American psyche.
Yet there is another form of man — sophisticated, gorgeous and aloof — that is just as recognizable, though we lack a modern name for this creature. And since he who can't be named can't be discussed, this misunderstood genius — this elegant outlaw, this rare incarnation of taste and wit — slips among the forgotten shadows of time and place.
In this darkness of ignorance the dandy smirks, for he cherishes his obscurity. Were his secret to get out, aspiring dandies might start sprouting up like weeds. A sort of rebellious chameleon, the dandy at once defined his era and defied it, exemplifying his cultural milieu while at the same time subverting it. Though dandies have always been and always will be, like comets, their appearance is rare but inevitable. A rebel with no cause but himself, the dandy is ideally a man of leisure; "free" as one historian writes, "of all entanglements that interfere with taste."
The father of modern dandyhood was Beau Brummell. A common man with only a meager coffer, Beau befriended the Prince Regent (eventually George IV) who inveigled him into the loftiest levels of London society. Famed for his truculent wit and blasé demeanor, Brummell's style ran counter to the prevailing taste of the times, which was still suffering from baroque extravagance. By combining wit, which cuts, and elegance, which soothes, Brummell perfected the art of pleasing by displeasing.
Many intelligent men born long after Brummell used him as a model for a new archetype of manhood. Baudelaire, Dickens, Wilde and Proust are just a few of the men of letters who believed that dandyism was an intellectual and artistic pursuit; a philosophy of life based on almost Buddhistic self-mastery; and a way for a man upon whom the gods had bestowed superior gifts to ensure his distinction from the common herd. A dandy is much more than a walking mannequin.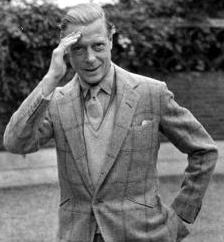 The glorious days of Deco produced its fair share of men for whom life itself was the greatest work of art. One of the most illustrious was the Duke of Windsor (formerly Edward VIII, Prince of Wales).
An athletic man with movie-star looks, the Duke was a notorious clotheshorse who shocked his patrician peers by demonstrating a fondness for checks, plaids and bright colors. According to historian Frances Donaldson, the Duke was seen in his garden in France "wearing crimson trousers one day with a light blue shirt and red and white shoes, and another day bright blue trousers with a canary yellow shirt and blue shoes."
The Duke practiced the dandy quality of sartorial innovation within the bounds of good taste as well. He popularized suede dress shoes and is credited with inventing the backless tuxedo vest. He also invented a new way of tying a necktie, aptly referred to as the Windsor knot.
Ultimately, what makes the Duke more than simply a well-dressed English gentlemen was his irrepressible independence. A gentleman would not have abdicated the throne of England to marry Wallis Simpson, a twice-divorced American. But a dandy would — and did. A robust and vigorous man, one day in 1924, while on vacation in America, he played polo in the hot sun until two horses were worn out. "The Prince of Wales loved danger," recalled Reverend Philip Clayton, who ran a hostel for troops during World War I, adding of the Duke's appearance, "There was something so nice about his clothes. I don't know where he lived, but he was always so nice and clean."
The Duke's wit was also sharp, especially when it came to the Duchess, Wallis Simpson, who was a maternal figure to him. Once, when on a shopping spree, the Duke spied some swimming trunks and said he'd better have a pair. "It's I who wear the shorts in this family, you know," he said to the clerk.
Among the Bright Young People who filled the English gossip columns during the 1920s were dandies Harold Acton and Brian Howard, along with their fashionable friends, writer Cyril Connolly and renowned photographer Cecil Beaton. Acton served as the partial model for the dandyish Anthony Blanche in Evelyn Waugh's "Brideshead Revisited" (1944) and Ambrose Silk in "Put Out More Flags." Acton and Howard practiced a form of revolt based on fantasy, art, elegance and high manners that defied everything of their parents' generation — including traditional notions of manhood. Martin Green, in his study of post-World War I English dandyism, "Children of the Sun," writes, "We can see dandyism expressing itself in the worship of art; in the fellowship of other dandies; in making a cult of clothes and manners; and in making a cult of luxury and aristocracy. The dandy is likely always to be a snob, because he wants to crystallize life into perfect form, into a style — often a somewhat fantastic style — chosen and achieved deliberately, and for that purpose money and private traditions are an advantage."
Sadly, like many dandies, Howard's life ended tragically: He committed suicide in 1958. Acton went on to write, among other things, "Memoirs of an Aesthete" and was eventually knighted.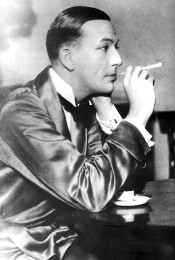 "I'm an enormously talented man, and there's no use pretending that I'm not," boasted Noel Coward towards the end of his career. As actor, director, composer, playwright and man of wit and elegance, Coward's supercilious self-evaluation is in fact quite accurate. He rose to fame rapidly and his influence upon his generation was great. "All sorts of men suddenly wanted to look like Noel Coward," writes Cecil Beaton, "sleek, clipped and well-groomed, with cigarette, a telephone or cocktail in hand."
Coward brought to the Deco era an image of the dandy as fashionable party-goer; a revitalization of the Brummellian "clubman" type of dandy, freed from the philosophical overtones brought to dandyism by Baudelaire, Wilde and Proust. But Coward replaced Brummell's cold impertinence with carefree insouciance, a cocktail cure for the angst then gnawing at the Lost Generation and tempting them with nihilism. "Life is nothing but a game of make-believe," Coward wrote in the song "London Calling" (1923); and in his play "Hay Fever" (1925), a character proudly proclaims, "We none of us ever mean anything." In "Conversation Piece" (1934), set during the Regency, the birthplace of English dandyism, Coward satirizes a group of dandy characters in the song "Regency Rakes:"
We're Regency Rakes
And each of us takes
A personal pride
In the thickness of hide
That prevents us from seeing
How vulgar we're being.
Coward himself followed the dandy model that dictated never revealing one's true feelings publicly and always remaining cool-headed. "Immense calm with your heart pounding" was how he described his public and professional persona. One friend said of him, "His manner created distance between himself and those who would approach him." Conscious but critical of his own vanity, Coward once said, reports Beaton in his diary, "I take ruthless stock of myself in the mirror before going out for even an unfortunate tie exposes one to danger."
Dandyism, and the detachment that necessitates it, reaches its apex in Coward's sublimely self-assured line — which he said at twenty-one — "I am related to no one except myself."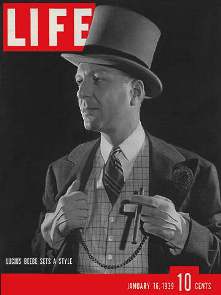 "Almost every man," Lucius Beebe once stated, "has either secretly or patently some feeling for clothes and would indulge his fancy far more lavishly and colorfully were it not for the jealousy, usually expressed in the form of sarcasm, by the women he encounters. No woman can stand seeing a man as well or painstakingly dressed as herself." (Reported in Time, February 6, 1939).
However much credence one gives to the boasting of the robust Beebe, a Bostonian by birth and former contributor to the San Francisco Chronicle, he never allowed himself to be outdone by even the most stylish of women. Born into considerable wealth, Beebe abdicated the dandy role of man of leisure and adopted the dandy role of renegade journalist and fashionable man-about-town. Beebe spent 40 years as a newspaperman — roughly between the 1920s and 1960s — writing witty columns in which the cigar-smoking, caviar-consuming conservative vexed and roiled everyone in sight with his scathing and hilarious invective.
Beebe had a habit of denouncing everyone from politicians and lawyers to his fellow journalists, often pouring salt on wounds by ripping them again in columns immediately following the initial blow. If he went a tad overboard, Beebe would get his editors drunk until they saw things his way.
Beebe authored some 28 books, mostly on the subjects of trains and Americana. His most fashionable tome was "The Big Spenders," a chronicle of America's aristocracy of money. In it he devotes an entire chapter to the sartorial expenditures of America's wealthiest men, diligently reporting every last diamond cuff link and bespoke brogue.
Beebe had a vast wardrobe that was rather anachronistic in character. Up through the 1960s he affected watch chains, homburgs, umbrellas and boutonnières — reminders of a pre-atom-bomb past of sartorial splendor.
"During his early years in New York," writes Gordon Pates in his introduction to Beebe's biography, "he had been classified as a dandy because he possessed a large and elaborate wardrobe, and the mannerisms for which he was noted set the teeth of a number of his contemporaries on edge. Young Mr. Beebe's posture as he backpedaled rapidly toward the 19th century outraged all to whom progress was a sacred word. With the passage of time, there was somewhat less outrage. For his outlook, his mannerisms and his clothes seemed more becoming in a dignified man of middle age. This latter-day approval, however, was lost on Mr. Beebe. He hadn't paid any attention to the disapproval in the first place."

Beebe's fondness for fine food and drink ultimately led to five kidney stone operations. He considered this a small price to pay for good living.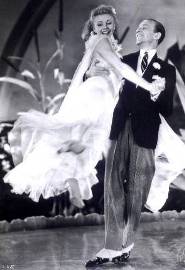 Dandies in Hollywood and Literature
In Hollywood's glorious heyday, numerous dandies shone upon the silver screen. Fred Astaire brought elegance and an air of nonchalance to nearly every role he played. His early films in the 1930s gave Astaire his most dandyish roles, particularly in "The Gay Divorcee" (1934) and "Top Hat" (1935) in which he played elegant, happy-go-lucky men who are never seen working. As these were musical comedies, his characters are always cooking up romance, reminding us of Baudelaire's line in his essay on our subject at hand, "If I speak of love in the context of dandyism, it is because love is the natural occupation of men of leisure."
In real life Astaire practiced the same sartorial fastidiousness and was a complete perfectionist when it came to dancing.
Dandies are just as often villains as heroes. In the film-noir masterpiece "Laura" (1944), Clifton Webb plays the renowned columnist Waldo Lydecker. A wealthy man of the highest taste, Lydecker is a middle-aged man of distinction and possessed of an acerbic wit. In a self-protective shell of formality and irony, Lydecker drops lines like "In my case self-absorption is completely justified; I've never met any other subject quite so worthy of my attention," and "I'm not kind, I'm vicious; it's the secret of my charm." When his infatuation with Laura breaks his emotional self-mastery, Lydecker is driven to murder.
As historical films generally say as much about the times in which they're made as the times in which they're set, the Depression-era taste for extravagant escapism made Hollywood bring several historical dandies to life. Leslie Howard plays the foppish clotheshorse Lord Percy, who is in fact none other than the Scarlet Pimpernel in the film of the same name (1937). Based on the novel by the Baroness Orczy, "The Scarlet Pimpernel" argues that those who appear vain and frivolous on the outside may be concealing a heroic side underneath. Lord Percy's wife says to him, "It's some role you play, perhaps to keep the world at a distance [and] the man behind the mask." Indeed, even the most superficial dandies are deeper than they seem.
In "The Picture of Dorian Gray" (1945), based on Oscar Wilde's novel, George Sanders plays Lord Henry, the Mephistophelean character who seduces the aspiring dandy/decadent Dorian. Sanders perfectly portrays the jaded cynic Lord Henry while dryly dropping Wilde witticisms such as "I like persons better than principles and persons with no principles better than anything else in the world," "The only difference between a caprice and a lifelong passion is that the caprice lasts a little longer," and "I adore simple pleasures, they're the last refuge of the complex."
The biographical film of Benjamin Disraeli ("Disraeli," 1929), chronicles political intrigue surrounding the English prime minister who began his career as a society novelist and flamboyant dandy. George Arliss portrays an aged Disraeli stripped of his affected attire but still retaining an aura of polish and perfection.
As a Jew in a society that was gentile without always being genteel, Disraeli grew up an outsider in Victorian England: already he was halfway to dandyism. His first public promenade in dandy duds consisted of a blue coat, light blue military trousers, black stockings with red stripes, and a watch chain as delicate as a cobweb. "It was like the parting of the Red Sea," he later recalled of the reaction on the street. Disraeli's political speeches were accompanied by sweeping arm gestures, gyrations in his upper body, and vocal inflections laced with witty sarcasm towards the liberal Whigs. In the film, George Arliss humorously shows us Disraeli's penchant for pretending to snooze in Parliament while the opposition attacked.
Energized by both ambition and imagination, Disraeli strove to combine art and life. "I wish to act what I write," he once confessed in his diary. In 1833, long before becoming prime minister, he wrote, "I am only truly great in action. If ever I am placed in a truly eminent position I shall prove this."
George Arliss won an Academy Award for best actor for his portrayal of the amiable eccentric.
Dandies even found there way into Deco literature, with F. Scott Fitzgerald bringing several to life. In "The Beautiful and Damned" (1922), Fitzgerald draws the dashing but doomed character Anthony Patch, writing, "He became an exquisite dandy, amassed a rather pathetic collection of silk pajamas, brocaded dressing gowns, and neckties too flamboyant to wear; in this secret finery he would parade before a mirror in his room or lie stretched in satin along his window-seat looking down on the yard and realizing dimly this clamor, breathless and immediate, in which it seemed he was never to have a part." Patch's dandyism is seriously compromised when he falls for the shallow Gloria Gilbert, and their reckless marriage ends in alcoholism and despair.
But Fitzgerald's greatest literary creation, and another unknown dandy, is none other than "The Great Gatsby" (1925). Jay Gatsby, with his mysterious past, solitude, life of leisure and sartorial extravagance ("The guy wears a god-damned pink suit!" scoffs Tom Buchanan), make him a striking American contribution to a long literary line of elegant outsiders. "I lived like a young rajah in all the capitals of Europe;" he says, "Paris, Venice, Rome — collecting jewels, chiefly rubies, hunting big game, painting a little." For Gatsby style is a way of life, and he proudly watches Daisy Buchanan's reaction to his fine things. At the sight of his beautiful shirts, she actually breaks into tears.
And in that scene Fitzgerald presents in a crystallized form the mysterious influence of dandyism. It is something at once subtle but deeply felt.
And Gatsby would perhaps have been less great without it.
Dandyism, Sexuality and the Return of Masculine Splendor
Since the fall of Oscar Wilde, many of the most publicized dandies have been homosexual, among them Marcel Proust, Noel Coward, Harold Acton and Neil "Bunny" Roger. Indeed a fascination with fashion combined with a cult of high taste have become stereotypes of the male homosexual, reaching mythical proportions in figures such as Liberace.
But the original dandies, including its most outspoken apologists such as Baudelaire, Beerbohm and Barbey D'Aurevilly, were all heterosexual. The correlation between dandyism and homosexuality is primarily a product of the 20th century and has more to do with changes in the status of women and modes of production than it does with shifting notions of manhood.
In her exhaustive study of male splendor through the ages, "The Peacock's Tail," historian Pearl Binder argues that the decline of masculine panache in the mid-19th century derives from the Industrial Revolution and the change from an agrarian and aristocratic economy to an industrial and democratic one. This change had a detrimental effect on the masculine ego, both for the factory worker who spent his day in a large bureaucratic organization monitoring machines, to his social better shuffling paperwork in the manager's office. Both eschewed their Regency forefathers' colorful elegance for a drab Victorian garb of black and gray, the colors of the modern city, which prompted George Bernard Shaw to dub the 1800s as "a century in mourning."
The second blow to the masculine ego came two generations later, with the first wave of the women's movement. Later, by the 1970s, women had achieved a radical change in their social status, one that would alter the entire relationship between the sexes. These two forces, Binder argues, are why men dress the pathetic way they do today: man has liberated his women and invented machines to do his work for him.
While both sexes dress casually today, it is clear that at every social function the women far out-dress the men. Indeed, it has become a mark of manhood for a male to denounce any concern for his appearance. What could have prompted this apathy, given that historically men were the most fashionable and extravagant?
I argue that the rise of women's status throughout the 20th century has created a bitter resentment in the masculine psyche. Men have watched their once-unquestioned authority withered to virtually nothing in the wake of modern feminism and gender politics. This resentment has born in men a spirit of negation that sharply characterizes contemporary masculinity. A negation of what? — of everything redolent of traditional femininity.
In the effort to secure their own sense of turf, and to prove that there are still manly qualities by which men can compare themselves with each other, the Cult of the Slob has developed. This premise, upon which 90 percent of television sitcoms are based, is that men are uncultured boorish louts and that women are forced to love them anyway because at least these smelly curs are better than the available alternatives. Men today revel in their lack of manners, their inability to pick out their own clothes without the help of a maternal woman, their incomprehension of interior decorating, and their utter dread of being dragged to the opera. Manners, taste and style are things for women. Men prefer football, beer and breaking wind.
We need only look at our contemporary film icons to see the war against refinement. Among the Ramboes, Terminators and Die-Hard action heroes, there is only remaining matinee idol who can be said to embody "feminine" traits: James Bond. Polished, elegantly dressed, a connoisseur of food and wine, well-mannered and charming, Bond is the last dashing action hero, whose lineage goes back to Valentino and Erroll Flynn. And it is no coincidence that he was created before the modern women's movement and that he is British.
Thus while an upper-class Victorian bachelor, because he lived in a patriarchal society, could have taken care in his dress, chosen fresh flowers for his apartment, collected fine China and gone to the ballet without any question of his manhood, today's cultured sophisticate faces constant scrutiny of his sexuality if he exhibits the same qualities.
As a result of this dumbing-down of contemporary masculinity, gay men found the dandy persona to be the most viable — and enjoyable — alternative to status-quo heterosexual manhood. In the effort to differentiate themselves from the heterosexual majority, many gays create a cult of exquisite taste, high fashions and high manners that trumps the boorish notion of manhood sustained by the dominant heterosexual middle-class.
In March 1998, Forbes ran an article on the invasion of New York by dapper British tailors such as Richard James, plus the sudden sprouting up of new haberdasheries such as Turnbull & Asser and Holland & Holland. The article was entitled, with a typical malapropism, "The return of dandyism."
While we will have to wait and see if a cult of self-made aristocrats truly manifests itself, there is evidence that men are attempting to cultivate a more traditionally masculine image as a reaction to postmodern feminism. The cult of the cigar — with all of its costly accoutrements and black tie events — has been one of the more visible signs of a return to manly pursuits and sartorial elegance in the 90s.
Among the younger set, New York and San Francisco have become major locations for the return of swing music and dance. Now, one could argue that today, every social sphere — from techno nightclubs in Fort Lauderdale to posh Manhattan cocktail parties — has the room's most beautiful women as its stars. These are the ones everybody is looking at: the men with desire, the women with jealousy. But the retro swing scene is a social sphere in which the star is not the beautiful babe, but the cool male hepcat. Girls of the scene may look impeccable in their vintage dresses and hairstyles, but the prime guys greatly surpass them in ornamental splendor. Dig the swingin' hepcat in his killer-diller suit, his two-tone shoes, his hat, vest, miles of silver chain dangling down his thigh, and occasionally his walking stick or boutonnière. The male struts his stuff around the club while the females stand and watch hoping he will ask them to dance.
This gives the entire swing scene a dandyish aura, as it has as its focal point a cult of masculine hipness: the cool talkin', stylish dressin' guy who actually knows his cocktails, his jazz, and how to dance. And not surprisingly, it is a scene that takes its inspiration from pre-feminist days.