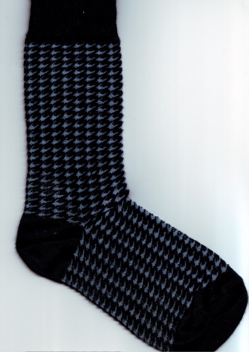 During my apprenticeship of the dandy art, I've learned that dandyism is not defined by a specific look from a certain era, but instead is an approach to wearing clothes, independent of time and place, that produces an effect we call dandyism. There is no one way to dress like a dandy, only ways that succeed or fail to varying degrees. And nowhere is the attempt to adopt a standardized dandy uniform more futile than in the attempt to replicate the way dandies dressed a hundred years ago.
No, instead a man simply dresses in his own particular way, and his movements and demeanor animate his clothing. And crystallized within the elusive effect of this combination of man and clothing is that certain something we call dandyism.
Now ours is an age of overstatement. I have it on good authority from a journalist, and journalists can always be trusted, that when a certain dandypunk removed his pustule-spangled mantool from the nearest harlot long enough to answer some questions (about himself) for an article, he was wearing a suit pockmarked with shiny red sequins.
Yet according to Max Beerbohm, part of the magic of dandyism lies in producing the supreme effect through the least extravagant means.
So while I still find pleasure in donning full dandy regalia for a night at the opera, lately I find I take greater sartorial pleasure in outfits whose dandy factor is far less obvious.
For example, recently I was a guest at GenArt, a large annual fashion event in Los Angeles that draws nearly 1,000 people. I had discovered one of the featured designers, providing her first publicity in the fashion press, which led to her being chosen as one of the Fresh Faces of Fashion. Not exactly Lord Henry tutoring Dorian, but satisfying nonetheless.
I never bother to remember something as vain and trivial as what I wore on a particular night, but in racking my brain I believe I wore:
Navy blazer, double-vented with ticket pocket
Pink oxford-cloth shirt
Dark jeans by Agave (free schwag from a publicist; I only wear jeans if I don't have to pay for them)
Black croc belt
Black bit loafers
Sky blue houndstooth socks, pictured above
Altogether a rather anonymous outfit, in my estimation.
So during the course of the evening my friend and I meet a couple of young ladies, whom we then escort to some hip Downtown sushi place on the 21st floor, with a stunning view of the smog.
The waitress comes over to take our orders for drinks and fishes, and when it's my turn, I cross my legs and gaze at the menu with that blasé expression for which I am famous. When I look up, the waitress and my companions are staring at me in rapt amazement.
"Wow," says the waitress, "those are some really nice socks."
"Amazing," coos one of the young ladies.
"I love patterned socks," says the other.
My friend makes an offhand nod of approval, rather used to this sort of thing.
Ah, bringing the evening to a screeching halt of admiration with nothing but a pair of hose — it will forever remain one of my fondest memories.