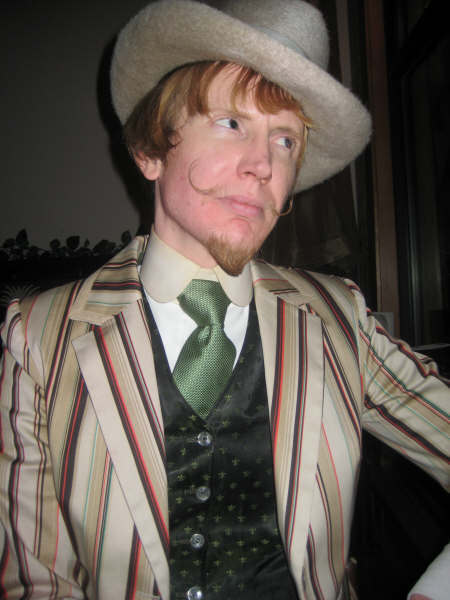 To paraphrase Schopenhauer, dandies are like drops of mist forming a rainbow in the sunlight. When one drop of water disappears, another comes to take its place.
So while Sebastian Horsley has been denied entry into the U.S, blogger aubrey_weirdsley has returned to Dandyland after a year in digital exile.
"I've had nothing to say and no wish to share," writes Weirdsley in his first post. "But people contact me now and again and say that I am missed, and although I don't give a rusty-badger-crap about being known to the general public, it is nice that some of the few people that I care about care about me as well."
Now writing under the nom de plume The Dandiest, Mr. Weirdsley (aka Doran Wittelsbach) is known for his impressive image collection, handlebar mustache that is all handles and no bar, and penchant for goth girls still shy of 21. He also shares the dual ignominy of being both a practicing Satanist and a former Dandyism.net contributor.
Moreover, even the most claret-clouded reader can see by the photo above why dressing like Mr. Weirdsley gets you -5 points on the dandy quiz.
Weirdsley's inaugural post also recounts a gesture sure to be lauded by fellow dandypunk Horsley (indeed the pair should found a Mutual
Humiliation Society). It seems Mr. Weirdsley has recommitted himself to cause of dandyism by mortifying his flesh with the word "dandy."
But since all great dandies go into exile, Mr. Weirdsley's return makes him the leading candidate for 2008 Dandy of the Year.