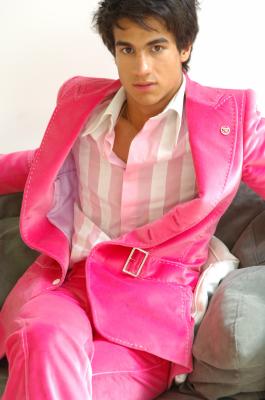 Often criticized as Dandyland's Grand Inquisitors, Dandyism.net has taken a bold step toward coming to terms with dandyism in the new millennium by forging an international alliance with the pink panther pictured at left.
Or rather, he's formed an alliance with us.
The chap in question is John Dodelande, the 18-year-old French wunderkind (if a Frenchman can be a wunderkind) who has taken le tout Paris by storm with his audacious fashion designs, as well as stylish furniture, retail boutiques, restaurants, yachts and literary publications.
That's if you believe his publicist.
Doodles (our term of endearment for him) loves pink suits: He not only designs them, he actually wears them in public, including on the cover of his revolutionary magazine-cum-book, and all over his website, which includes periodic posts about dandyism.
Doodles has also invented Doodism, a sort of 21st-century combination of dandyism and dodos, along with the innovative concept "Wo Wi Wo," which stands for "World With Words."
With his youthful good looks, flamboyance, enterprising creativity, and Dada penchant for jabberwocky, Doodles has just eclipsed former Dandyland exile Doran Wittelsbach as frontrunner for 2008 Dandy of the Year.
Despite his sartorial judgment, Doodles' dandy acumen is rapier-sharp: His website describes D.net as "Le meilleur site américain sur le dandysme."
So when his factotum sought out an interview with us, we could hardly refuse. The French version appears here, while the English version follows below.
During the course of the interview, D.net's Junta opined on a variety of subjects of interest primarily to ourselves. We also discovered that when translated into French, our dry understatement becomes riddled with exclamation points, the punctuation equivalent of Gallic gesticulations when speaking.

Here's the English version:
Christian M. Chensvold, you launched Dandyism.net in June 2004. Did you get up one morning and decided to share with the world your views on dandyism? What gave you the idea to create this website?

I had written a few articles on dandyism before, and had noticed there was no central resource on the Internet for dandyism — in any language. Reluctantly I decided to launch the site, and continue to maintain it as a painful duty. —CMC

I was very impressed by the quality of the articles on your website. Articles are very well written and all the contributors seem very well read. Does one need a college major in 19th- century Western literature in order to qualify as a dandy?

You only need a degree in Western literature if you want to write about dandyism. A degree in literature, or indeed any college degree, is a distinct disadvantage for a dandy, unless it's from a state university, which in the United States is the equivalent of a lycée professionnel.

Dandies, you see, would rather go to the casino than to a concert, visit their tailors rather than the theater.

But don't get the wrong impression. Dandies are not philistines. They love to go to the opera, to see their mistresses dance in the chorus, and they hold artists in the highest esteem, since their models are often nude. — NW

I have counted no less than 17 people as members of The Junta, i.e. the team behind Dandyism.net. Would you say that your site is a company, a brotherhood, or a club? How does one become part of The Junta?

Becoming a member of the Junta requires the ability to miss our strict editorial deadlines, which are currently 8 months in advance. Many lesser dandies have actually turned in their articles on time, at which point we've been forced to fire them. — CMC

You make a distinction between artists and dandies. When I read your site, I sometimes feel that one cannot be both. Why is that so?

Every contributor to Dandyism.net has great respect for the arts. Chensvold runs another website, FineArtsLA.com, where he covers opera and ballet. Robert Sacheli is a member of the Arts Club of Washington, founded in 1916. I once read a poem, and when Nick Willard was a child, he used to make sculptures with his mashed potatoes.

But not all artists are dandies. That is not an insult, it is merely a fact. In history there are many examples of dandies who are also artists. These include Beau Brummell himself, who was a very clever draftsman, Max Beerbohm, who as well as being a talented theater critic also wrote many insight short stories and character studies, as well as novel, and Saki (H.H. Munro), who was also a writer of great wit and charm. Certainly the English cartoonist, set designer, painter, draftsman and writer, Oswald Lancaster, was a dandy.

Dandyism.net has occasionally objected to some artists being called dandies. This is because some people confuse dandyism with dressing outrageously in order to draw attention to onself. There is nothing wrong with dressing outrageously in order to garner attention if you wish to become a famous artist. But that is not dandyism. It is part of a strategy in a marketing campaign. If dandyism has an object, it is to be as elegant as one can – in dress, in deportment and in conversation – for its own sake.

Dandyism can never serve a practical purpose. — M2

You track down the roots of dandyism to Beau Brummell, and 19th-century British and French dandies are often quoted on your site. As a historian of dandyism, how do you explain that Italy did not provide its fair of dandies at the time, even though we all know how stylish Italian men can be nowadays?

As the sole member of the Junta of Italian descent, I think a better question might be "Why did it take so long for the British and French to catch up?"

Consider the vibrant images of masculine style that still speak to us in the sculptured curls of the Roman nobility or in the richness of Renaissance portraiture. The merchants and explorers of the age of discovery opened up not only new trade routes but also brought some of the opulent influence of the East into the men's styles of their day. Generations of popes have used the splendor of costume as one of the signs of their earthly as well as spiritual power. The young gentlemen who embarked on the Grand Tours of the late 18th century often found the fashions of their Italian counterparts among the most spectacular of souvenirs. And remember, this is the land that gave us one of the prime tenets of dandyism, sprezzatura.

Dandyism in England, and to some extent in France, grew out of a reaction to cultural trends and prevailing social attitudes. I'd suggest that in Italy dandyism — or perhaps more properly, masculine stylishness — was a concept that found a more historically welcome niche in the national character. Nineteenth-century Milanese who exercised their prerogative, if not their obligation, to present themselves as tastefully turned-out gents were admired. Do the same in Victorian Manchester and you'd likely be branded a bounder or incite some nasty whispers about your preference in bedmates.

Until the emergence of widely recognized and influential dandies such as d'Annunzio and Carlo Bugatti we may not have known many of the names of those Italians of fashion, but we certainly can recognize the heritage of the men who made their country a land where being un dandy naturale is a birthright. — RS

Italian men are too passionate and sexual to be dandies. Dandies are cold, detached, and sexually dysfunctional — like the English. — NW

The forum on Dandyism.net is very active. What do your forum members talk about?

The forum is a salon where contemporary dandies may put their coruscating wit on display. It is moderated with a very light hand. The only rule enforced is "Don't be boring."

As a result, as you can imagine, sometimes the discussions become outré: members reveal perversions, such as wearing spats or ascots. — NW

Where do you like to shop in Paris?

The venerable Charvet (28 Place Vendome, 1er) is my idea of shirt and tie heaven. The Italian textile firm Voghi has a small shop where I've found some of the most beautiful scarves and pocket squares (33 rue Jacob, 6e). Dyptique (34 blvd. Saint Germain, 5e) makes one of my favorite scents, the fig-based Phylosykos. For inexpensive everyday style, you can't beat Monoprix; I like the branch on the rue des Rennes. A scarlet satin-finished silk waistcoat was my find among the well-edited stock of shirts and accessories at Ray Club Paris (76 rue Turenne 3e). Because gentlemen are not defined by clothes alone, I can't think of a better combination than a Partagas Serie D robusto from Casa del Habano (169 blvd Saint Germain, 6e) accompanied by an exquisite 50-year old argmanac from Ryst-Duperion (79 rue de Bac, 7e). And raising a toast to the spirit of Oscar Wilde in the chic bar of L'Hotel (13 rue des Beaus-Arts, 6e) is required for any dandy, since died upstairs when the establishment was known as the Hotel D'Angleterre. — RS

One of the great men's stores in the world is Arnys – a beautiful store with a grand staircase. Its garments are divine. I own six of their signature Forestière coat in a variety of fabrics, including a demi-mesure made in chinchilla. For shoes I go to Aubercy: their ready-to-wear shoes are dashing yet classic. Their custom made styles, however, are strictly for pimps. We've highlighted on our site Marc Guyot's Cape Cod, which carries very dandy accent pieces inspired by Jay Gatsby and American Trad. Just don't buy your entire wardrobe there — you'll look like a gangster in a grade B 30s movie. — NW