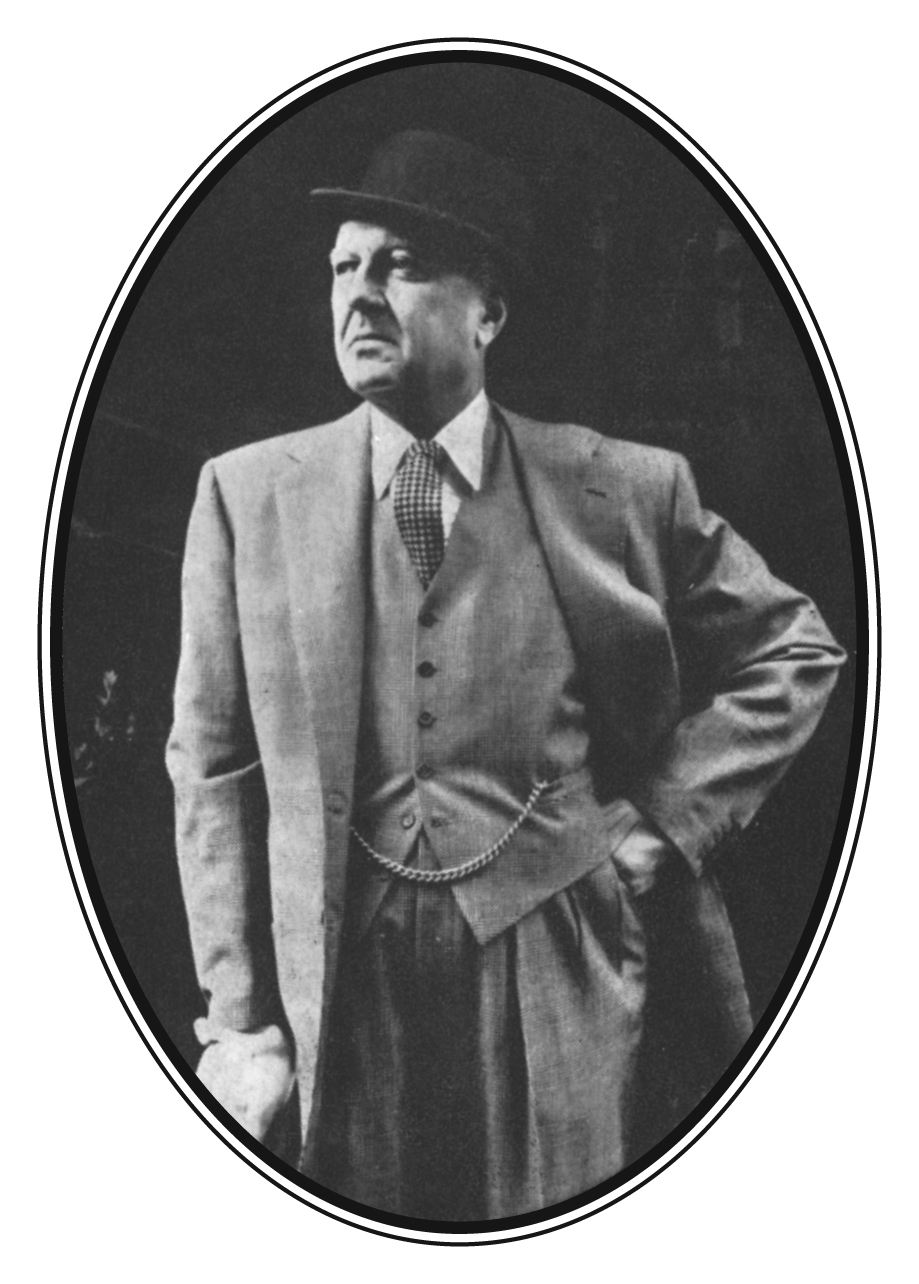 Here follows part two of Robert Sacheli's resuscitation of the forgotten American dandy Lucius Beebe, in which the author pays particular attention to Beebe's sartorial splendor and his place as the first retro-eccentric of modern dandyism.
Dressing for the role of official czar of Nightclubland came naturally to Lucius Beebe, as he'd been rehearsing for it all his life.
Beebe was reportedly the first man to introduce white linen plus-fours to Yale (Gibbs reported that "Professor Chauncey P. Tinker, seeing them at a distance, complained irritably that the place was getting overrun with women. 'Don't look now,' he said, 'but here come two of them now.'") He got better reviews from his fellow students. The campus paper enthused over his "orchidaceous grey trousers" and "vine-covered top-hat."
In London, Beebe ordered his suits from Savile Row's Henry Poole & Company, and he looked on being measured for a bespoke suit as something akin to taking the sacrament. The venerable gentleman's tailor was "not only a cathedral of waistcoats and hunting pinks, [but] a repository of Victorian grandeurs establishing continuity with the past and the great names of English legend." Throughout his life, his business suits from Poole duplicated the lines of one made for him in New York in the early '20s, which were, he says, "cut from doomsday fabrics, with notched lapels and four buttons." The suits were only one component of the grand effect. The New Yorker helpfully provided its readers with a partial inventory of Beebe's dressing room:
He has a good evening dress coat lined with mink and collared in astrakhan, which he has insured for $3,000, and an old rag also lined in mink, but with a sable collar, which didn't seem worth the bother. The jewels necessary to set off this splendor, or else hold it together, include three gold cigarette cases (although he rarely smokes anything but cigars), valued at $700 each [in 1937 dollars], a cashmere sapphire cabochon ring worth $1,200, a single emerald stud at $500, and a platinum evening watch which cost $10,000.
Though Beebe thought of formal clothes "quite literally as the livery of my profession," he disingenuously complained that "Walter Winchell and other scoundrels" had so unfairly pegged him as "a dude among the legmen, a penny-a-liner of vast and effulgent sartorial resource" that it "became necessary for him to lay in a stock of tail-coats, Inverness cloaks, and collapsible top hats to live up to the legend." Things had gotten so out of hand that "as time passed it was impossible for him to identify himself at his bank unless he was wearing court attire complete with orders and a dress sword." (The third-person voice was typical Beebe. Using the first person apparently came off as too chummy.)
In February 1939, Beebe was feted as a male fashion leader at a luncheon thrown by the gentlemen of the National Association of Merchant Tailors of America, but the shindig could have been considered somewhat of a comedown. A few weeks earlier he'd received a wider, if more populist, accolade on the cover of Life magazine. "Lucius Beebe Sets a Style" was the line that accompanied the photo, in which all his trademarks were on view — the top hat, boutonnière, leather gloves, checked waistcoat and antique gold chain, as well as a panatela and an expression falling somewhere between resigned boredom and regal condescension.
In truth, Beebe's style influenced no one at all in the real world, except possibly carnival barkers or costumers of operettas.
Unlike the Duke of Windsor or Fred Astaire, personalities whose now-classic styles of the 1930s are still admired and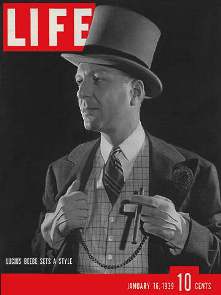 emulated, Beebe as a dandy was sui generis, which most likely was just fine with him. Though the relaxed and colorful resort wear worn by members of the Palm Beach set (bush jackets, striped blazers, polo shirts, and light-hued dinner jackets) featured inside that Life issue still looks modern and stylish, you can bet that Beebe wouldn't have been caught dead in any of it.
Hoofers and Philosophers
While tailors and much of the popular press applauded, Beebe and his wardrobe were not always kindly treated in print. He was simply too tempting a target. "Orchidaceous" got trotted out regularly, as did "rococo," "baroque," and "mauve elegant." He was unaffectionately tagged "Luscious Lucius" by Walter Winchell. "Beaunash," the writer on male fashions for Playbill told the New Yorker's "Talk of the Town" reporter that he found Beebe very badly dressed indeed.
Much of the adjective-based innuendo hinted that Beebe was gay — which he nonchalantly was. "Lacy Jones" was the Time headline for a review of his first railroad book, and even as indulgent an interviewer as Wolcott Gibbs found it necessary to note, "his friends would be a little startled if he married." In a sense he did. In 1940, Beebe met Charles Clegg at a Washington house party given by Evelyn Walsh McLean, and the two were a couple — remarkably openly for the times — from then on. That he met the man who shared his life while wearing the Hope Diamond as a gag seems somehow fitting.
Despite the catcalls from some quarters, it's nearly impossible to overstate the influence that Beebe's personality had on the popular culture of his times. In 1938, the Chicago Ballet served up a concoction called "Café Society" in which the "thickly disguised" (as Time put it) main characters included prizefighter Max Baer, dime-store deb Barbara Hutton, and naturally Beebe himself. Beebe's name provided the punch line for countless cartoons, which often featured hoboes with pretensions. Throughout his career he happily shilled for products seeking connection with the bon ton, from scotch to Studebakers.
D.net has already spotlighted what's undoubtedly the only dancing tribute to a dandy, Harold Nicholas's spectacular "Mister Beebe" number from the 1944 musical "Carolina Blues." Nicholas appeara in a costume that echoes Beebe's Life cover get-up, and the song includes the observation, "It's also said when he goes to bed/His pajamas are as groovy as a Technicolor movie." They most likely were.
Five years earlier, Beebe made a cameo appearance in a vehicle called "Café Society" in which reporter Fred MacMurray romanced heiress Madeline Carroll, and for which, to Cholly Knickerbocker's consternation, he pocketed $500 from Paramount as the inventor of the title. "It achieves the almost incredible distinction of libeling its subject" was one critic's verdict.
Beebe's style became the sartorial shorthand for film and theater characters that were waspish, sophisticated and somewhat effete. In his homburgs, gloves, and fur-collared overcoats, majestic George Sanders in "All About Eve" is a flattering dead ringer for Beebe. Clifton Webb's well-groomed but acid columnist Waldo Lydecker in "Laura" reflects a less savory side of an urban dandy, and even though based on Alexander Wolcott (a notably poor dresser), Sheridan Whiteside, the titular "Man Who Came to Dinner," reflects some of Beebe's worldliness and hauteur as well as a penchant for florid smoking jackets.
It was inevitable that Beebe would show up among the smart names dropped in a Cole Porter list song, and so Ethel Merman in "Panama Hattie" belts "When I give a tea, and Lucius Beebe ain't there/Well, I still got my health, so what do I care!" The classiest tribute came from Broadway lyricist Lorenz Hart. For the show-stopping song "Zip!" from "Pal Joey," in which a deep-thinking stripper unveils the range of her cerebral interests, he created the timeless triplet, "I adore the great Confucius/and the words of luscious Lucius/Zip! I am so eclectic."
In 1940, Beebe probably had an edge on the philosopher in the fame department, and certainly was the better dressed.
Western Sunset

World War II brought changes even to Beebe's world. Charles Clegg enlisted in the Navy soon after Pearl Harbor, more uniforms than dinner jackets were seen in the swankest nightclubs, and Carino, the incomparable maitre'd at El Morocco, was asked to bend wartime rationing rules by a socialite's request to "just bootleg me a little black coffee in a cocktail glass."
A bigger change came in 1950, when Beebe and Clegg waved goodbye to the "gobaloney golconda" of Manhattan and hit the gilded trail to Virginia City, Nevada. In a graceful valedictory written for Holiday magazine that year, Beebe allowed that he still loved city life, but "I am taking it on the lam for the same reason the wise guest goes before the party is over. The last part of every party is not the best…"
Beebe traded his top hat for a Stetson and the party moved a few thousand miles west. He and Clegg purchased the Territorial Enterprise, a paper founded in 1858 and noted for first publishing the stories of Mark Twain, to which, according to one observer, they brought "a zest and syntactical abandon unknown to the flaccid journalism of the East."
During their years in Nevada, Beebe's writings often sang the praises of the roaring days of the Comstock Lode, and the region's colorful history gained a few new hues in his retellings. Preservation became one of his pet projects, and he was an avid watchdog for Virginia City's civic affairs. His perspectives on urban planning could be unorthodox, but entirely in character. A bordello that planned to open next to a school caused a fuss among the citizenry, to whom Beebe proposed the obvious solution: "Move the school! Don't move the girls!"
Naturally, Beebe and Clegg made news as much as they reported it. Their showcase was the Virginia City, a private railcar of such gaudy splendor that Beebe admitted that their travels often prompted locals to "think we're with a circus. The freaks, probably. It happens everywhere we go."
It had a 23-foot observation-drawing room, a dining room where 8 guests could dine as if at the Waldorf, a 50-bottle wine cellar, 3 staterooms, that small Turkish bath, and quarters for two staff. Beebe composed a pamphlet as a guide to the car's fittings, and even a short sample shows the hubbub was warranted: "The crystal chandeliers in the observation-drawing room were purchased from Venice as was the baroque gold cherub mirror over the fireplace. The dining saloon's gold veined diamond paneled mirrors were manufactured especially for the car in Italy… The ceiling murals were copied from those in the Sistine Chapel in Rome… "
It was the elaborate stage set for another breathtaking scene in the ongoing Beebe pageant, as was, Wolcott Gibbs suspected, the whole rootin'-tootin' landscape. Paying a return visit to his interview subject in 1956, he thought that:
…just as he did in New York, Mr. Beebe is intent on imposing an older and more jovial system of manners on a community not always quite sure of what was expected of it, and even occasionally hostile. In his fond imagination, everyone in that part of Nevada greets the rising sun with two ounces of bourbon and ends the day prostrate on a barroom floor, and gamblers, prostitutes, and quaint survivals of the roaring past disport themselves with terrible enthusiasm. The paper reports this gaiety conscientiously…
Wolcott had nailed Beebe once again as a retro-eccentric extraordinaire.