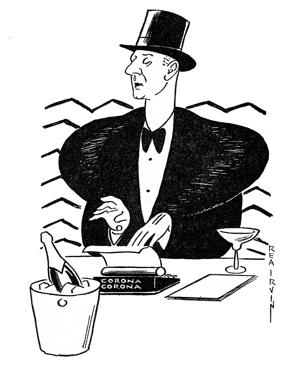 Herein follows the final chapter of Robert Sacheli's biography of Lucius Beebe, which depicts the subject in his final years haunting the modern world like an elegant phantasm.
Sunset in San Francisco
The television show "Bonanza," set in Virginia City, was a gold mine for the town, but this fictional version of old Nevada was at odds with Beebe's more rarified vision, and in 1960 he and Charles Clegg decamped for San Francisco. The column "This Wild West" became his bully pulpit at the San Francisco Chronicle, and he continued to write for the glossy magazines that guided aspirants in the art of finer living, such as Gourmet, Holiday, and Town & Country.
Beebe's work of this period still reflects his wit, enthusiasms and indulgences, but the charm could now sometimes curdle and the nostalgia grow overbearing. Still renowned as the nation's foremost "eatall and tosspot," Beebe roamed the globe and reported on fabled restaurants, but his articles blur into an over-rich banquet of le hommard Deauvillaise, poularde sautee au Champagne, croustarde de langouste, and soufflé Grand Marnier, washed down with Chateau Margaux '34 and topped off with snifters of Hine cognac and a Cuban belicoso fino. Who, in the early 1960s, was dining like this?
And what other journalist was boasting that he had never seen a television broadcast, still railed against air travel, bemoaned the decline of the derby, or unironically asked in a column, "What Was So Wrong With 1905?" (For starters, its attractions did not include the disasters of "woman's suffrage, the universal motorcar, credit cards, international airports, repudiation of the national currency, tranquilizers, freedom riders, digit dialing, and the one-ounce martini.") A particularly nasty story about Bobby Kennedy appeared in the 1966 collection "The Provocative Pen of Lucius Beebe, Esq.," and Clegg and a co-editor included it in a collection of Beebe's works published in England a year after the senator's assassination.
The mores and manners of the times were changing more quickly than even Beebe's capacity for fantasy could counterbalance. A photo from this period shows a dandy in aspic, wearing an outfit that could have come from an actual Edwardian. The three-piece Glen Urquhart plaid suit, the droop of the heavy watch chain, the gloves, bowler, and the walking stick are all familiar. There's also a bulldog-like hardness to his face, and the expression with which he stares out of the frame suggests he's confronting the future with all the princely distaste he can muster.
Lucius Beebe died of a heart attack in 1966; he was 64. Charles Clegg followed, by his own hand, when he reached the same age 10 years later.
The Lost Dandy
Except to railroad buffs, for whom his volumes on the subject approach the status of sacred texts, Beebe quickly became a footnote to a dim and bygone era, a slightly entertaining but essentially irrelevant figure. Today, he's all but forgotten among even the literate populace, and not a single one among his scores of books is available in current editions. That's a shame, because Lucius Beebe still has much to say to us, and no journalist ever said it exactly the way he did. His prose style, like croustarde de langouste, may be an acquired taste, but the man can undeniably write and he's funny as hell.
There's real pleasure to be found in reading Beebe. His voice blends the argot of Shubert Alley, a newspapermen's saloon, and a Vanderbilt drawing room circa 1905; the effect approximates a production of "The Importance of Being Earnest" as interpreted by the thespians of the Hot Box Revue. There's the delicious surprise of encountering names like Hooper Hooper (who sported the most rakish silk hat in Boston), Basil D. Woon, Tipton Blish, Mrs. Albert Tilt, Mr. Reginald Stocking II, and Berry Wall, King of the Dudes, all of whom can be imagined slipping into the Stork from a parallel Wodehousian universe.
Beebe's legacy as a names-make-news pioneer lives on, though what he'd make of its lurid and debased current incarnation is anybody's guess (although it's clear that he'd knock Matt Drudge's pathetic little porkpie off his head with a quick swipe of a walking stick). Beebe's writing offers insights into the games of fame and celebrity still played nightly. His article "Heels' Progress" takes a sympathetic look at the young men ("dress-suit Okies" and "dinner-jacket hoboes") who left Manhattan for Hollywood banking that their good looks, charm, or more intimate talents would land them on the screen or beside a producer's pool, but who more often ended up behind the tie counter.
Then there's the occasional passage that captures an era with the startling clarity and immediacy of a nightclub photographer's flash. Beebe's roster of the stag line at El Morocco (from a late-30s piece called "Who's In What Saloon Now?") is more than a collection of mostly-forgotten names; 70 years on, it has a melancholy beauty that recalls one of Gatsby's guest lists:
Among them on a given evening might be seen Kip Soldwedel, a glittering young man of the boulevards; Jack Velie of Kansas City, nephew of Dwight Deere Wiman and one of the proprietors of the Deere plow works; Emlen Etting, the Philadelphia modernist painter; Bill Hearst and his young brother Randy; Delos Chappell, producer who revived the Central City Opera House in Colorado for a week's run of "Camille," which set him back two hundred and fifty thousand dollars; Winsor French, of the Cleveland Press, on a Manhattan jaunt; Bill Okie, display designer for a Fifth Avenue jeweler; "Junior" Wotkyns, a dazzling youth from Hollywood and the heart-throb at that moment of Libby Holman Reynolds; Quentin Reynolds, the fictioneer; Jack Kriendler of "Jack and Charlie" and "Mooey-Mooey" fame; Louis Sobol of the Journal, and Nat Saltonstall, most eligible bachelor of Boston, over for the week-end.
No other American cuts quite the same figure in the history of 20th-century dandyism. Beebe's style, as outrageous as it could be, also had a courage and a liberating panache. He made men's clothing a topic of popular discussion and saw himself as the embodiment of what every man might be if he simply dared. He told the assembled tailoring-trade types that had gathered for that 1939 luncheon in his honor that "Almost every man has either secretly or patently some feeling for clothes and would indulge his fancy far more lavishly and colorfully were it not for the jealousy, usually expressed in the form of sarcasm, by the women he encounters… No woman can stand seeing a man as well or painstakingly dressed as herself."
But there's also a cautionary strain that runs through the tales of Beebe's dandyism. Though retro-eccentricity offers its charms, his life is a testament to the dangers it can ultimately hold for an adherent who has both the imagination and the means with which to indulge it. Wolcott Gibbs included one of Beebe's more minor triumphs in his 1937 profile. In the days when the Central Park Casino was in operation, the management traditionally offered a magnum of champagne to the first person to arrive at its doorstep in a horse-drawn sleigh after the season's first snowfall. An early-rising Beebe hired the sleigh of one Pat Rafferty from the Plaza cab bank and handily presented himself as that year's winner. He was the single entrant. He had, in Gibbs' lovely phrase, "raced with ghosts."
The handsome youths in the stag line at El Morocco and the girls making the most of their entrances into the Colony have faded into the centuries-old New York night. The passing of decades and memory have rendered them as spectral as that lost city under the fresh snow. Lucius Beebe blazed a quicker route into the shadows. He spent a lifetime speeding — deliberate and hardheaded and magnificent — into the past, racing, as it turned out, with no other ghost than his own.