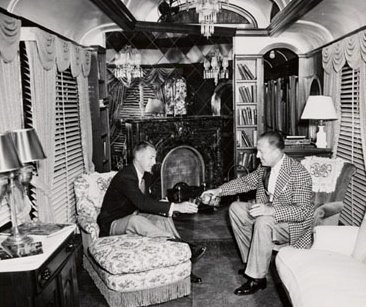 Following hard upon Robert Sacheli's three-part biography on Lucius Beebe, D.net founder Christian M. Chensvold has written an article on chartering vintage railcars — including Beebe's Virginia City — for the online magazine at RalphLauren.com.
"Beebe hired Hollywood decorator Robert Hanley to select a crystal chandelier, 17th-century clock, red silk curtains, and working fireplace in a decorating scheme commonly referred to as Venetian Renaissance baroque, though some find 'Barbary Coast bordello' more accurate," writes Chensvold.
"Pellizzer [the car's current owner] has preserved the car's original decor as much as possible. 'I think it's the best car out there because of its history,' he says. 'And it's certainly the most gaudy, ostentatious, and over-the-top.'"
Under a tight deadline, Chensvold was unable to ride aboard the railcar, though the current owner has promised him its future use.
In fact, at this very moment the Junta is planning a cross-country goodwill tour aboard the Virginia City.