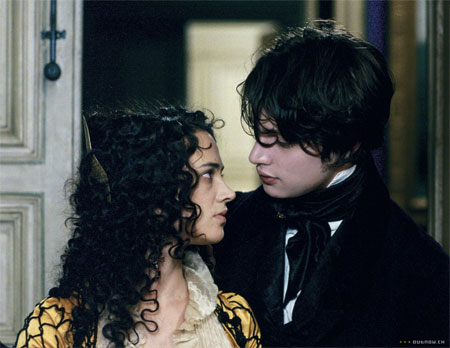 Catherine Breillat's "The Last Mistress" opens today in New York.
An official selection at the Cannes Film Festival last year, the movie is based on dandy scribe Barbey d'Aurevilly's 1851 novel "Une vieille maitresse."
Director Breillat is known for sexually provocative films such as "Romance," for which she hired Italian porn star Rocco Siffredi to penetrate her leading lady. In "The Last Mistress," the principals were only asked to simulate lovemaking.
Released by IFC, the film will hit Los Angeles next week, followed by a gradual nationwide rollout.
Click here for the Village Voice review.
Saith the IFC in a release:
THE LAST MISTRESS is a smoldering adaptation of Jules Barbey d'Aurevilly's scandalous 19th-century novel. Set during the reign of "citizen king" Louis Philippe, it chronicles the surprising betrothal of the handsome, aristocratic, former libertine Ryno de Marigny (newcomer Fu-ad Aît Aattou) to Hermangarde (Roxane Mesquida of FAT GIRL), a lovely, young and virginal aristocrat.

Lurking in the margins – and in the imaginations of high society's gossip-hounds – is de Marigny's older, tempestuous lover of ten years, the feral La Vellini (Argento). Described as "a capricious flamenca who can outstare the sun," La Vellini still burns for de Marigny, and she will not go quietly.
Here's the trailer:
[youtube]http://youtube.com/watch?v=x8aq8b6YbQU[/youtube]