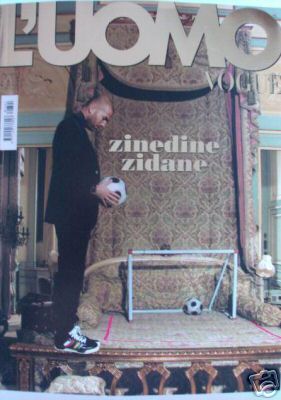 Dandies who don't have their fortunes tied up in the three-percents will want to fork over $15 for the July/August issue of Italy's L'Uomo Vogue. With many articles on dandyism, the issue is sure to sell out and appreciate in value. Indeed, copies are already on e-Bay for the exploitation of dandies in Australia and Japan.
What's sure to make the issue a collector's item isn't the article by the redoubtable Nick Foulkes — author of the recent d'Orsay biography — on who is and isn't a dandy. Nor is it the piece on "dandy cars," nor the fluff piece on the renaissance of the pocket watch. And it certainly isn't the photo spread of Robert Downey Jr. cavorting variously in top hat, bowler, frock coat, cravat and monocle.
No, the issue will be a sound investment because it includes the best article we've ever seen in print about dandyism and the Internet, entitled, with typical European flair, "Dandyland's STARS in the DIGITAL Era."
The article was written by D.net's own Chensvold & Willard, who have become the Rodgers & Hart of dandy journalism for their dry and conceited style, as evidenced in the very words you're reading now.
Intended for a general audience uninitiated into the mysteries of Dandyland, the article opens with a uncharacteristically modest mention of Dandyism.net, then goes on to discuss Winston Chesterfield and Andrea Sperelli (who faced off in a "Who's the Dandy?" post), Doran Wittelsbach, John Dodelande and Lord Whimsy. Dickon Edwards, who doesn't typically pontificate on dandyism itself but who is a fine example of a dandy rocker, was also included.
In the interest of diplomacy, Chensvold and Willard suggested that their editor make the photo requests, since if certain parties knew the story was written by the "charmless entitled jerks" of D.net, they would be unlikely to comply, despite assurances of the article's neutrality, or at least quasi-neutrality.
Curiously, we know from the blogosphere that Sperelli was asked to provide a photo, but his absence in the photo spread (and despite his being a fellow Italian) is either due to his unwillingness to condescend to the request of a vulgar fashion magazine, or because the L'Uomo Vogue staff didn't think he looked elegant enough. Or because he found out the article was written by Chensvold & Willard.
The vainest of all, however, was our very own Chenners, who did not have a recent photo handy, as he's never been asked to submit a picture to illustrate one of his own articles, and so blew his 60 percent share of the writer's fee on a photographer.
Willard, on the other hand, took his share of the fee and hired a limousine and two lady escorts, traveled to Atlantic City, placed what was left on black, lost, then calmly left the casino, got back in the limousine, and went home.
Below is a scan of the article in Chensvold and Willard's somewhat clumsy Italian. For the benefit of English-speaking readers, a translation follows.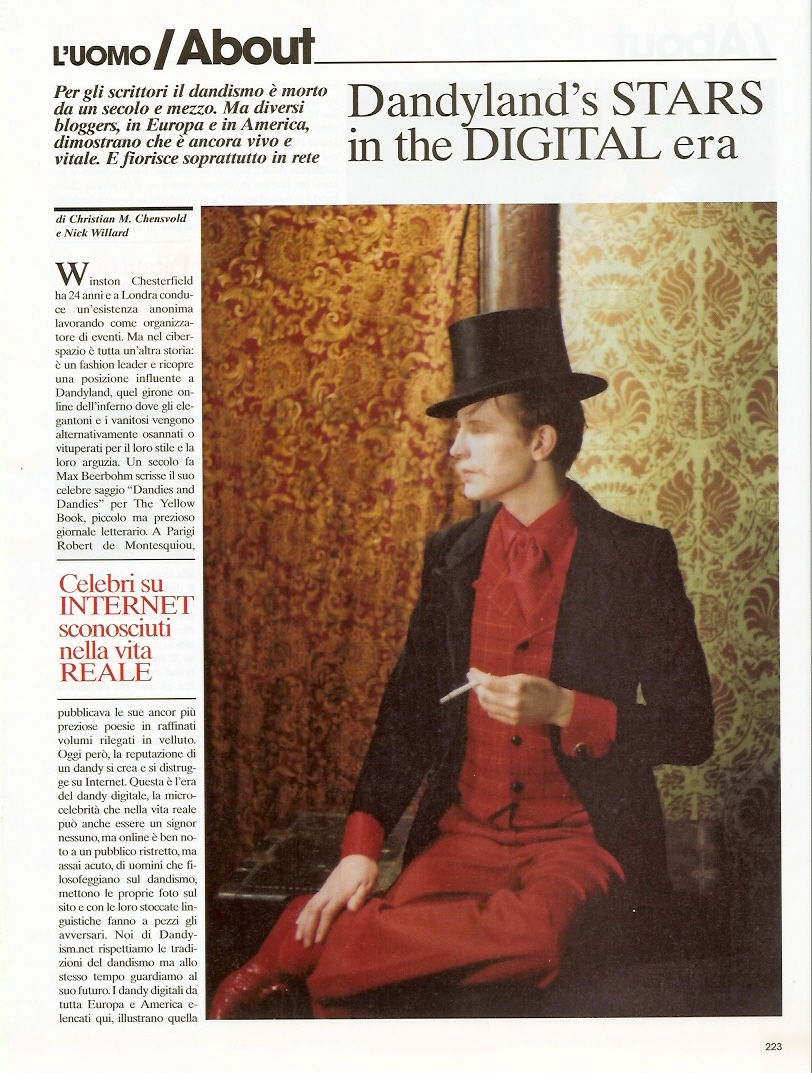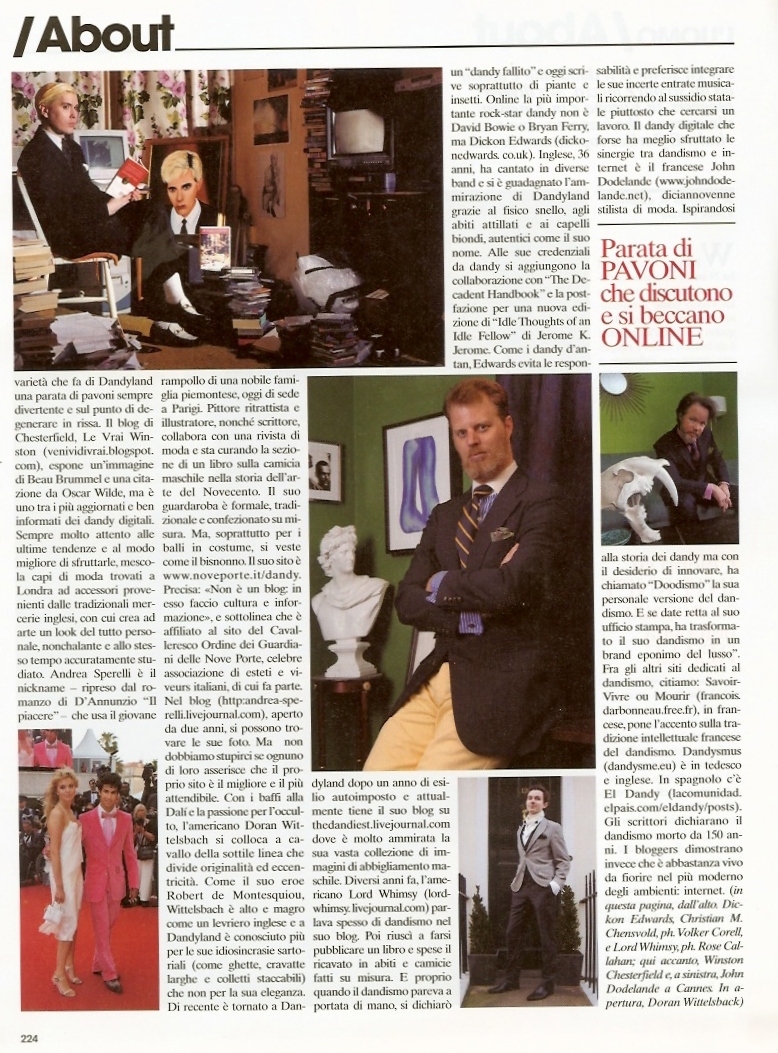 Digital Dandies
By Christian M. Chensvold & Nick Willard
Twenty-four-year-old Winston Chesterfield leads an anonymous life in London working as an event planner. But in cyberspace it's a different story: Chesterfield is a leader of fashion, holding an influential position in Dandyland, that online circle of hell where the elegant and vain are alternately lauded and vilified for their style and wit.
A hundred years ago, Max Beerbohm wrote his celebrated essay "Dandies and Dandies" for The Yellow Book, a small but precious literary journal. In Paris, Robert de Montesquiou self-published his even more precious poetry in exquisite volumes bound in velvet.
But today a dandy's reputation is made and broken on the Internet. This is the age of the digital dandy, the micro-celebrity who may be a reclusive nobody in real life, but who is well known online to a small but discerning audience of men who philosophize about dandyism, post photos of themselves, and use their linguistic rapiers to tear apart the photos of others.
Out of a sense of noblesse oblige, we at Dandyism.net are the self-appointed kings and executioners of Dandyland. We both respect dandyism's traditions and look to its future. The following digital dandies, from across Europe and America, illustrate the variety that makes Dandyland an always-entertaining peacock parade about to erupt in a brawl.
Chesterfield's blog Le Vrai Winston (venividivrai.blogspot.com) prominently displays an image of Beau Brummell and a quote from Oscar Wilde, but Chesterfield is the most up-to-date of digital dandies. Keenly aware of the latest trends and how to exploit them, Chesterfield mixes fashion items found on London's High Street with accessories from England's traditional haberdashers, and together weaves a completely individual look that is both relaxed and carefully crafted.
Also in his early twenties, Andrea Sperelli (who takes his name from D'Annunzio's novel "Il Piacere") carries on the dandy tradition of cold superiority. His hauteur, which jumps off the computer screen, no doubt comes naturally, since he is an Italian count. And yet his contempt for the world around him suggests a certain bitterness that his aristocratic lineage is irrelevant in the modern world.
Sperelli's wardrobe is formal, traditional, and precisely tailored. He also has a fondness for attending 19th-century costume balls for which he dresses up like his great-grandfather. Sperelli blogs on dandyism, in Italian and in English, at four sites: andrea-sperelli.livejournal.com, noveporte.it/dandy/dandismo, noveporte.it/dandy/taccuino.php3, and community.livejournal.com/dandyism.
With his Daliesque mustache and fascination with the occult, American Doran Wittelsbach straddles the fine line between originality and eccentricity. Like his hero Robert de Montesquiou, Wittelsbach is tall and whippet thin, and is known in Dandyland more for his sartorial idiosyncrasies — such as spats, cravats and detachable collars — than his elegance. Wittelsbach has recently returned to Dandyland after a year of self-imposed exile, and currently blogs at thedandiest.livejournal.com, where he is admired for his unparalleled collection of menswear images.
Several years ago American Lord Whimsy (lord-whimsy.livejournal.com) blogged frequently about dandyism while wearing the clothes of a leprechaun and a flowerpot used as a hat. Then he got a book published, and spent the proceeds on custom suits and shirts. And just when dandyism seemed within his grasp, he declared himself a "failed dandy," and today writes mostly about plants and insects.
The leading online rock-star dandy is not David Bowie or Bryan Ferry, but Dickon Edwards (dickonedwards.co.uk). The 36-year-old Englishman, who has sang in several bands, has earned admiration in Dandyland for his spare build, slim suits, and blond hair that is as authentic as his first name. Adding to his dandy credentials are his contributions to "The Decadent Handbook" and an afterward to a new edition of Jerome K. Jerome's classic, "Idle Thoughts of an Idle Fellow." Like the dandies of old, Edwards avoids responsibility, preferring to supplement his uncertain musical income by going on welfare rather than taking a job.
Perhaps the digital dandy who has best exploited the synergy of dandyism and the Internet is 19-year-old French fashion designer and media mogul John Dodelande (www.johndodelande.net). Drawing on dandy history but with a desire to innovate, Dodelande has dubbed his personal version of dandyism "Doodisme." And if you believe his publicist, Doodelande has "turned his dandyism into an eponymous luxury brand."
Other sites devoted to dandyism include:
Savoir-Vivre ou Mourir (francois.darbonneau.free.fr) is in French and emphasizes the French intellectual tradition of dandyism. Dandysmus (dandysme.eu) is in German and English. Dandysme (dandyraffe.nl), in Dutch and English, carries a young artist's sporadically updated musings on dandyism. And in Spanish there's El Dandy (lacomunidad.elpais.com/eldandy/posts).
Writers have declared dandyism dead for 150 years. These bloggers prove that dandyism is alive enough to flourish in the most modern of environments, the Internet.