Shortly after his arrival in Africa, the narrator of Conrad's "The Heart of Darkness" meets an accountant wearing a spotless white suit in the middle of the jungle. Although he's but a colonial numbers-cruncher, the image is an arresting one: Might such a triumph of elegance over environment be the ultimate dandyish gesture?
Dandies of the Brummellian ilk delight in the sober shades of fall and winter, but d'Orsay-type butterfly dandies shine best in summer, delighting in suit fabrics such as gabardine, seersucker, linen, dupioni silk and fresco, and shirtings made of gossamer cloths like voile and batiste.
Although the dandy can dress with panache in the most sweltering of climes without relying on a suit and tie, as our own Nick Willard has demonstrated, when it comes to formal dressing, the dandy faces two divergent paths: He can show his disregard for the mercury and remain sharply tailored, or he can embrace the lazy days of summer with a softer silhouette and a rumpled sprezzatura.
And so we submit for your encomium or disapprobation the following gents, which include two new faces and four notorious ones. Which one best expresses summertime elegance?
Candidate number one (below left) is a newcomer from the pages of the New York Times. He is dressed up from head-to-toe, making no visible concession to the heat and even donning a waistcoat as an extra layer (or two layers, since it's double-breasted.)
On the right is Will, who previously faced off against manton in the WTD gladiatorial arena. He's stylishly dressed in seersucker, but what about the dark tie and pocket square?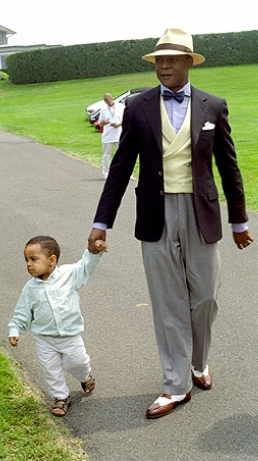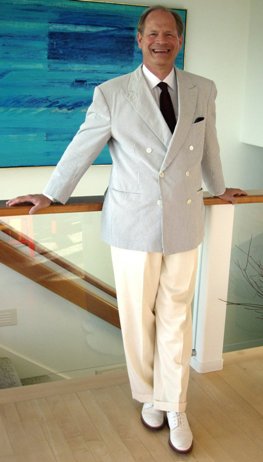 Candidate number three, socialite Geoffrey Bradfield, is still wearing his forced smile, though his trademark double-cuff-shoot is sadly absent. Is the pink suit a daring statement, or is he only channeling John Dodelande? And the bit loafers with no socks — summer staple or gauche gesture?
On the right, Andrea Sperelli, another previous WTD contender, expresses everything about summer except the joy. Does he resemble a Bright Young Thing at Oxford, or a Wimbledon linesman dressed by Ralph Lauren?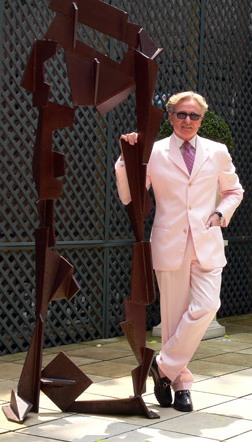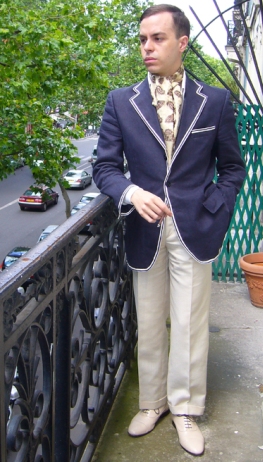 Candidate number five is James Jimenez, a decadent impresario who, as you can probably tell, is a close friend of Lord Whimsy. A fan is certainly one way of staying cool. Next to him is Dandy of the Year Lapo Elkann. Does the ventilating open neck and the three mismatched shades of white epitomize sprezzatura or merely slovenliness?