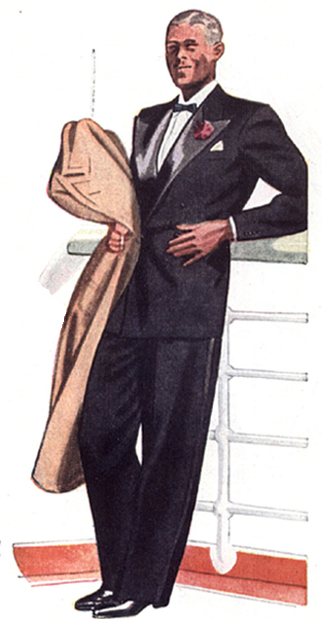 (Achtung: The music files in this post are NOT set to play automatically. If they do, please alter your browser preferences so that media files play only on command).
Recently a forum member posed the question "What sort of music does a dandy listen to?" While the unanimous answer was "Whatever the hell he likes," in this post I'll alter the question to "What sort of music is dandyish?" and offer a suggestion.
At Dandyism.net headquarters, when performing particularly arduous editorial duties, there is one genre of music I turn to for inspiration: British Light Music. While some might call it elevator music, I prefer to think of it as grand staircase music.
British Light Music consists of light orchestral music for things like ballets, films and plays. The emphasis is on melody. It is largely a 20th-century invention and therefore has developed alongside — though completely aloof from — the total dismantling of tonality by composers of serious music.
Besides the virtues of effortless elegance and a certain mischievous quality, British Light Music is wholly scorned by serious musicologists since it's based on pretty melodies. It therefore has the added appeal of being a musical pariah proudly flying the banner of beauty over the shelled trenches of atonality.
I find the music especially appealing in the morning, as I could never listen to something like a Shostakovich quartet before lunch. It is also especially pleasant to listen to in the evening while choosing a boutonniere for a night at the opera.
My own collection is small but cherished. The following are a few of my favorite tunes.
First up is "The Boulevardier" by Frederic Curzon. No lollygagging flaneur this fellow: Just listen to that brisk pace as he marches down the avenue to give his tailor an earful of the ol' rancid:
Also by Curzon, "Cascade" has a charming main theme I relied on to soothe my nerves during my last root canal:
Here is Anthony Collins' "Vanity Fair":
This tune by Mark Lubbock is called "Polka Dots," and is the perfect musical evocation of a dotted purple pocket square:
In Benjamin Frankel's "Carriage and Pair" one can almost see d'Orsay holding the reins with poise and aplomb:
One of the greatest figures in the genre is Albert Kelelby. Here we have a delightful confection called "Wedgewood Blue":
Finally, from celebrated composer Edward Elgar comes the minuet from his "Beau Brummell" suite:
In closing, I've noted there is no central resource on the web for British Light Music. I am considering adding a site on the topic to my Stickpin Media suite of sites and need an editor/blogger to run it. If the genre charms you and you've always wanted to be a self-professed Internet expert on something, send me an e-mail. You will be rewarded for your efforts with free CDs and everlasting glory.
And finally, here are British Light Music CDs available at Amazon, where a portion of the proceeds from any purchase goes to fund Dandyism.net drinking habits.