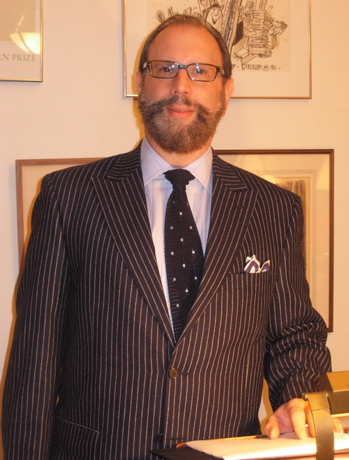 On September 17 I had the pleasure of speaking on Lucius Beebe at the Coffee House, one of Beebe's own clubs. It's a bastion of a vanished Manhattan, an outpost of the bohemian artists-and-writers world of the 1920s and '30s. It's still governed by its founding credo from 1915: "No brokers or bankers and perhaps no drama critics. No card playing. The club to be for sculptors, artists, foreigners, illustrators, authors, editors, professors, sportsmen, lawyers, actors, singers, playwrights, musicians, inventors, composers, statesmen, judges, etc."
Revered above all is the organization's Rule Six: "No Rules."
I'd visited the club on several occasions and found its members welcoming and quirky, and easily fell into the pleasant time-warp of its atmosphere. So when my biographical series on Beebe appeared on D.net this spring, I tapped the self-promoting spirit of the Junta and proposed that I return to the Coffee House, this time as a dinner speaker. My offer was accepted.
The 30-odd attendees were seated at a single, long table. Ringed with the Windsor chairs that date to the club's early years and anchored by towering chandeliers at both ends, the table was a convivial raft fueled by food and drink and lively conversation, one that for a couple of hours floated serenely free from the New York that clamored a few floors below.
Folks were eager to talk about Lucius, and one of the members, who worked at the Herald Tribune during Beebe's glory days as a columnist, remembered being intimidated by his "fancy Dan" presence. Dandyism, too, proved to be of fascination, and I was pressed to offer contemporary exemplars. I abetted myself well in explaining the nuances of the Gay Talese vs. Tom Wolfe match-up.
It's rare that you can take a seat at a table where Beebe — or George Gershwin, Cole Porter, Humphrey Bogart, P.G. Wodehouse, and Eugene O'Neill — once had their soup, and by the end of the evening I was struck with a tangible sense of the past. This, I thought, was what Beebe had cherished. More than top hats and walking sticks, it was a sense of connection and continuity that goes deeper than mere nostalgia.
That spirit guided my meanderings as a Manhattan flâneur for the next two days. It allowed me to see the ubiquitous headlines trumpeting fiscal implosion and be reminded of the economic wisdom of George Gershwin ("Who cares what bank fail in Yonkers/As long as you've got the kiss that conquers") rather than my free-falling 401(k).
I could pass the down-at-heels Madison Hotel and imagine it during its early-'30s heyday, when Beebe lived for peanuts in a $500-a-month suite in exchange for strolling through the lobby a few times daily in full sartorial splendor and unfolding his napkin at the hotel's restaurant. That one of its current neighbors is now the Museum of Sex would have amused him to no end.
I thought of Daisy, of course, when the Plaza came into view, as well as Beebe's years as a writer for Gourmet when the magazine operated from a palatial penthouse suite in the hotel. At dusk in Gramercy Park I could imagine the Algonquin crowd heading off to cocktails, and for a moment hear auto horns sound in a long-silenced timbre.
Those are the delights of a foray into the New York of the past, an excursion into a metropolis of memory that Fitzgerald recalled in one of his titles as "My Lost City." Wandering in the footsteps of Beebe also conjured up a few images from my own past. I saw my first teenage trip to New York when I stayed at the Biltmore and communed with old Scott's spirit under the lobby's famous clock. The glow of late-December light hitting the murals of the Oak Bar became visible, reminding me of college vacations when ordering a Dewar's at the Plaza seemed to be the height of worldliness (to say nothing of lunch at the Oak Room when it was an all-male preserve).
I was able to tap into that feeling of expectancy when crossing Central Park in a cab as a winter sunset has just begun, knowing that there was an evening and a city spread out before me.
I'm not quite ready to turn my life into a costume drama on the order of Lucius Beebe's, but one again I had found a lesson in his wisdom. A dandy's delight in the past — whether the real or imagined versions — can immeasurably enhance the present. Even when, for me, the immediate present held not a cab drive through a Fitzgeraldian twilight, but a bus ride back to DC.
Addendum: When the copyediting department asked for clarification on what Bob is wearing in the above photo, he supplied the following information: "It's a two-button, peak lapel, double-vented chalk stripe suit in navy blue. Shirt is a light blue/yellow check with double cuffs, tie a dark navy silk knit with dots. The cotton pocket square is edged in blue, and was my father's. Unseen: caramel suede loafers, 1920s Russian enamel cufflinks, 1930s wristwatch, and I'm not wearing underwear."