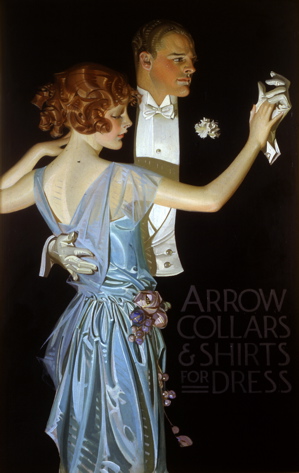 Since Dandyism.net's beginnings, we've shamelessly raided the oeuvre of American artist J.C. Leyendecker to illustrate our posts. In the early days, before our scowling mascot was created, we used a Leyendecker image next to the site's logo. Currently, we use Leyendeckers to illustrate the notorious "How Dandy Are You?" quiz, as well as the "Test of Dandy Knowledge."
We've always seen in Leyendecker's images a singular sartorial elegance, patrician demeanor, a certain frostiness, and a rock-solid masculinity. Naturally it took a gay man to create such images.
Now we can finally post Leyendecker images without shame, thanks to a nihil obstat from the publisher of the new book "J.C. Leyendecker," by Laurence and Judy Cutler.
It all came about as a result of D.net webmaster Christian Chensvold's profile of the artist for the online magazine at RalphLauren.com. Writes Chenners:
In 1905, Leyendecker created his most memorable legacy, leaping from the purely visual to the powerfully symbolic. In an age when detachable shirt collars were de rigeur, Leyendecker's Arrow Collar Man—a mascot for the menswear company Cluett, Peabody & Co.—became what Cutler calls the first real advertising campaign and produced the first sex symbol of either gender.

In a campaign lasting twenty-five years, Leyendecker portrayed an archetypal American masculinity that was equal parts football hero and urbane man-about-town. Whether clutching a briar pipe or guiding a winsome debutante across the dance floor, the Arrow Collar Man embodied a vision of American manhood that was both rugged and refined—every woman's dream. "At one point," says Cutler, "Leyendecker's Arrow Collar Man got more fan mail than Rudolph Valentino."
Below are a few more images from the artist, all courtesy of Abrams Books, via American Illustration Gallery, NYC.