By Stewart Gibson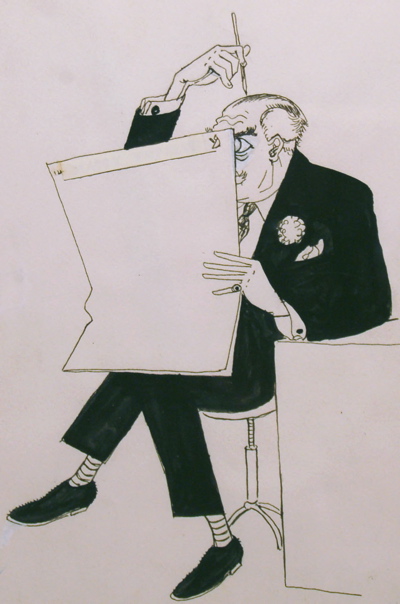 "Nothing dates so quickly as the apt comment." So wrote Osbert Lancaster, ruefully reflecting on the inevitable eclipse of his reputation as one of the leading cartoonists, wits and dandies of his day.
Over a period of almost 40 years, Osbert Lancaster became a household name in Britain thanks to his introduction (with some inspiration from the French) of the newspaper "pocket cartoon." For four decades readers would avidly seek out Lancaster's contribution to the front page of the Daily Express prior to giving any consideration to the headlines.
The year 2008 marked the centenary of Lancaster's birth, and in celebration a new book and exhibition are shining a fresh light on that once glittering reputation, providing illuminating insights into the world view of a man who brought the beady eye of an Edwardian dandy to bear on the follies and foibles of the mid-20th century.
In a superb earlier article for Dandyism.net, Michael Mattis covered much of the life and personal style of this "modern major minor dandy." So here we must focus upon the work and its relation to the nature of its creator, as surveyed in the recently published book by James Knox, "Cartoons and Coronets: The Genius of Osbert Lancaster."
Born to a wealthy family, Lancaster enjoyed a comfortable upbringing. He showed a natural talent for drawing from an early age and his sojourn at Charterhouse School fortuitously placed him at a institution which had an unusually strong tradition of producing outstanding caricaturists and illustrators, among them William Makepeace Thackeray, John Leech and Lancaster's direct precursor and hero, the "incomparable" Max Beerbohm.
As a cartoonist, boulevardier and "connoisseur of social distinctions," Lancaster's use of longer captions revised the tradition of 19th-century Punch cartoons, in addition to following the example of Beerbohm. Lancaster's obvious nostalgia for an earlier epoch was reflected in his wry observations on the shifting social mores of the 1950s-70s, most usually as seen through the eyes of his greatest comic creation: Maudie, Countess of Littlehampton. Maudie, and her fatalistic and fogeyish husband Willie, were as well known in their day as any society couple could possibly be.
Lancaster's personal style was already well set soon after he left Oxford. The fine suits, pink shirts, and generous displays of cuff and pocket handkerchief were complemented by the carefully honed image of a gentleman flâneur strolling casually into his publisher's office to deliver a few drawings as though he had just tossed them off. In fact, Lancaster was a hard-working and ceaseless creator, producing a constant stream of cartoons, illustrations and stage designs.
His popular success as a cartoonist tended to overshadow the range of his talents in other fields. By far the most important was his passion for architecture and the built environment, which was the source of some of his most significant work. Lancaster not only illustrated but wrote a number of books that delineated and gently parodied the changing and colliding styles of architecture to be found across Great Britain. In his most celebrated early volume, "Pillar to Post," his coinage of terms such as "Stockbrokers' Tudor" and "Pont Street Dutch" led to them becoming part of the nation's architectural language.
Despite his traditional leanings, Lancaster initially found many virtues in the Modern Movement of the 1920s. But this optimism faded as he saw the early clarity of the style transformed into the formulaic brutalism that was to disfigure so many of Britain's towns and cites during the decades following the end of WWII. This he brilliantly parodied in one of his later major works in the field, "Draynflete Revealed."
Lancaster was also a talented stage and set designer, and from the 1950s on produced work for many major companies and institutions, some of which are still in use today. Book cover design provided another important outlet, with his perfectly judged illustrations gracing the jackets of books by the likes of Anthony Powell and P.G. Wodehouse. All these very varied aspects of his work are given equal treatment in Knox's comprehensive book.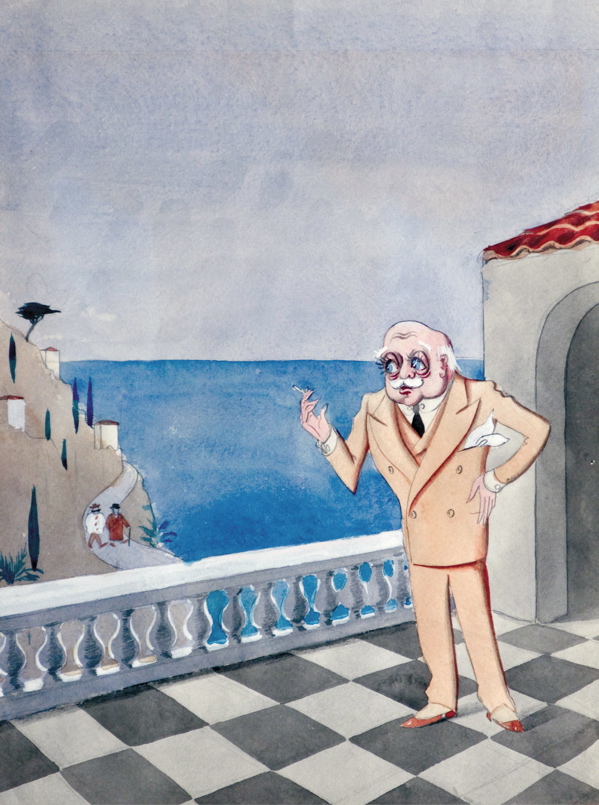 But it is the cartoons for which he will be remembered. James Knox makes claim for Lancaster to be considered one of the 20th century's greatest cartoonists. The fact that many of Britain's most significant contemporary cartoonists too, regard Lancaster as an essential figure, speaks volumes about the lasting qualities of his work.
As Guardian cartoonist Martin Rowson says, "The great thing about Osbert is that although he appealed to the establishment, he was in fact deeply subversive."
It is true that Lancaster was easily mistaken for an establishment figure and many still view him as such today. But as befits a true dandy he remained at heart an uncompromising outsider. "It is not the cartoonist's business to wave flags and cheer as the procession passes;" he wrote. "His allotted role is that of the little boy who points out that the emperor is stark naked."
In our age of financial meltdown, disposable fashion and post-modernist architectural folly, the wry eye of Osbert Lancaster can still provide a valuable corrective to the absurdities of the modern world.
"Cartoons and Coronets: The Genius of Osbert Lancaster," by James Knox, is published by Frances Lincoln Limited.
Stewart Gibson is Dandyism.net's Ephemera editor. Pictured above are a self portrait by Lancaster and a portrait of Max Beerbohm.