Editor's Note: Dandyism is, of course, a calling that knows no borders. As Ellen Moers noted in "The Dandy: Brummell to Beerbohm," after the fall of Napoleon, dandyism—and Brummell himself—leapt the Channel to France, where it took on a life and literature of its own, one that still thrives there today. From there Le Dandysme took flight, was translated into Russian, German and many other languages, and implanted itself into many customs.
In the spirit of that enlightenment—and in the spirit of "hands-across-the-sea"—Dandyism.net publishes its first article in French. In it, Pierre De Bonneuil, who publishes the French dandy site, La Loge D'Apollon, discusses Monsieur magazine, which began publication in 1919. Even if you don't read French, you're sure to enjoy this magazine's marvelous—and very dandyesque—illustrations.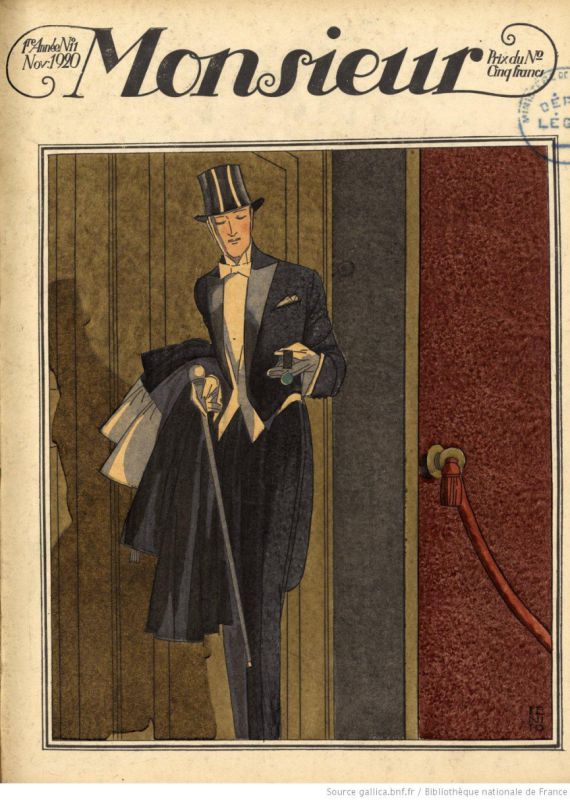 « Revue des élégances, des bonnes manières et de tout ce qui intéresse Monsieur »
Fondée en décembre 1919 au 4, rue de Tronchet à Paris, la revue procéda à une édition spécifique de son  premier numéro : un tirage de 100 exemplaires numérotés et signés par l'éditeur. C'est Jacques  Hébertot et Paul Poiret qui créèrent cet éloge du maintien et de l'esprit.
Dans sa présentation, Abel Hermant, rédacteur prolifique de la revue, évoquait l'esprit de Pétrone qui  considérait l'élégance pour l'une des catégories sous lesquelles on peut envisager tout ce qui existe  sans nulle exception. Ce périodique insuffla son exaspération à partir du numéro XIV en dernière couverture :  Monsieur n'est pas le Magazine des Snobs, c'est la Revue des Hommes Elégants.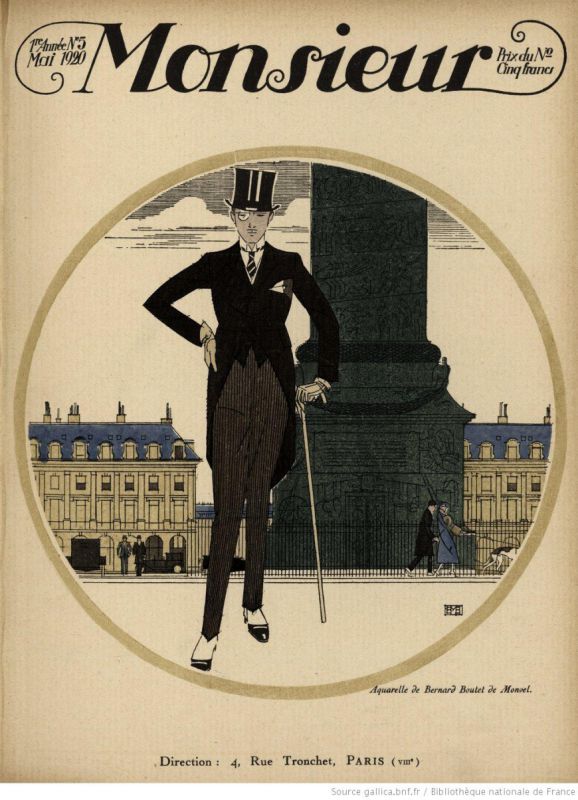 Les écrivains des années folles élaborèrent des articles en estimant les variations du temps et en annonçant une érudition arbitraire sur l'essence élitiste. Ils signèrent des manuscrits savoureux où Monsieur rivalisait en distinction :
Un Dandy – Le Jeune homme bien élevé – Monsieur Reçoit – L'Elégance de l'esprit – L'Evolution du col – La cravate et la politique – De l'influence du chapeau sur la politesse – Gilets – Parfums pour messieurs – La chemiserie – Le veston – L'art de causer – les cannes – les mouchoirs – La bibliothèque de monsieur…
Les meilleurs illustrateurs de l'époque font du style un point d'honneur et une quête permanente de la beauté. Ils embellissaient l'ensemble éditorial. Voici une liste particulière de certains pinceaux : Eduardo Garcia Benito, Bernard Boutet de Monvel, Maurice Taquoy, Pierre Mourgue, Pierre Brissaud, André Pécoud, André Dignimont…
Cette revue devient, en quatre années, la référence absolue de l'homme au manièrisme intemporel dont le prestige est au prix d'une certaine lenteur et d'un mépris apparent de la médiocrité.
—Pierre De Bonneuil