Since the release of Callahan & Adams' "I Am Dandy," D.net has assiduously followed the media coverage, shining our diabolical monocle on the images chosen to accompany posts, articles and book reviews.
We are self-pleased to unveil a final tally of the top faces of dandyism for 2013.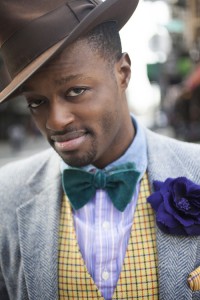 As you're surely well aware, ours is an age of extremes. Indeed the very word "extreme" is tirelessly used in product marketing. (To attempt to go beyond extreme, of course, brings about a conundrum: the only possibility is to begin making amplifiers that go up to 11.) And so it should come as no surprise that the dandies of 2013 are rather extreme. As we've said before, every era gets the dandies it deserves.
The cover boy of "I Am Dandy," Massimilano Mocchia di Coggiola, became without a doubt the most widely disseminated personification of dandyism for the year. But as he was depicted any time the cover of the book was reproduced, we have not counted dear Massi.
A few more remarks about the tally. Each post on the web or in print was evaluated on a case-by-case basis. We only included Facebook photos if the shots were taken and selected by a reasonably neutral party — Bergdorf Goodman, for example. We did not count the photos of men who posted pictures of themselves on their own blogs or Facebook pages. Moreover, the recent CNN slideshow was not included as the men depicted were chosen by Adams, not by CNN.
And so, in the eyes of the media, the top face of dandyism for 2013 is Dandy Wellington, who's on quite a roll, as "selfie" was also the Oxford Dictionary's Word of the Year. Patrick McDonald and Michael Attree were not far behind.
Here's the full tally, with the number at right referring to the total number of photos used by the media:
Dandy Wellington 10

Patrick McDonald 9

Michael "Atters" Attree 9

Nick Wooster 7

Matt Fox 7

Enrique Crame lll 6

Nick Sullivan 6

Mr. Burton 6

Dr Keith Churchwell 5

Fyodor Pavlov 5

Barima 4

Zack MacLeod Pinsent 4

Domenico Spano 4

Cator Sparks 4

Ray Frensham 4

Michael R. Davis 4

Tony Sylvester 4

Gay Talese 3

Kevin Wang 3

Robert E. Bryan 3

Ignacio Quiles 3

Andrew Yamato 3

Dickon Edwards 3

Doran Wittelsbach 3

Winston Chesterfield 2

Ed Hayes 2

James Sherwood 2

Robert W. Richards 2

Michael Andrews 2

Peter McGough 2

Dr. Andre Churchwell 1

Sean Crowley 1

David Zyla 1

Thomas Crowley 1

Sven Schneider 1

Hamish Bowles 1

David Carter 1

Michael Haar 1

Guy Hills 1

Robin Dutt 1

Lord Whimsy 1

Christian Chensvold 1 (bribed)

G. Bruce Boyer 0
Of course we remain skeptical, if not despondent or even slightly dyspeptic, at the thought of how our great fraternity of dandyism now resonates in the mind of the public, whose brains have been rotted by Hollywood. Cover boy Massi, for example, surely makes John Q. Public think of post-transformation Dirk Bogarde in "Death In Venice:"
Michael Atters, on the other hand, conjures up this actor:
Patrick McDonald can't help but make one think of…
And then there's Welly:
Put them all together, and the general impression of dandyism is that of an overbudgeted B movie.