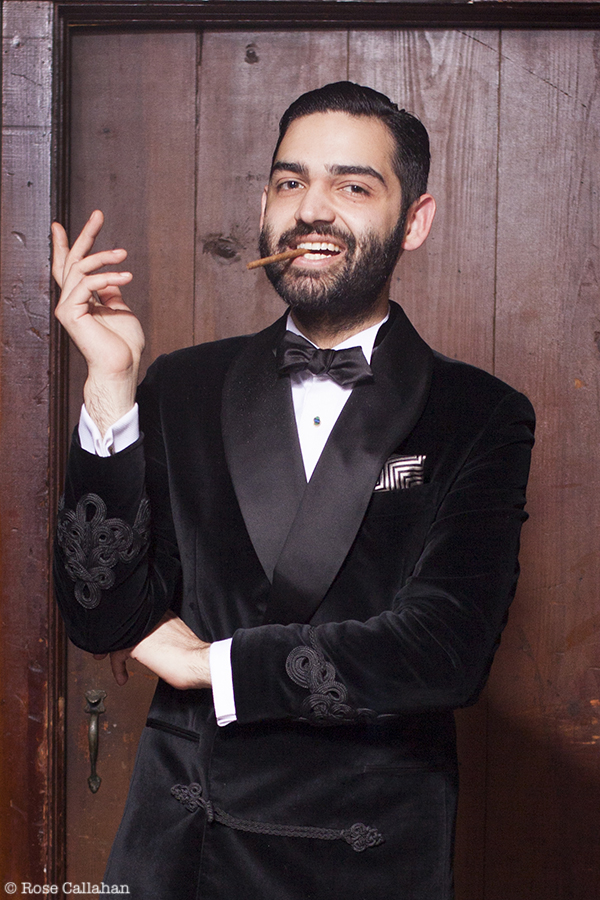 For services rendered to the understanding and misunderstanding of dandyism, as well as perpetually cutting a dashing figure, Dandyism.net is pleased to award Nathaniel Adams the distinguished title of Dandy of the Year 2013.
D.net founder Christian Chensvold recently presented him with his award, a silver and porcelain fleur-de-mal kindly donated by Boutonniere London:
We'd asked for a green carnation or blue hydrangea, but alas the start-up's floral choices are presently limited. Still, the boutonniere came in a beautiful presentation box and was properly inscribed: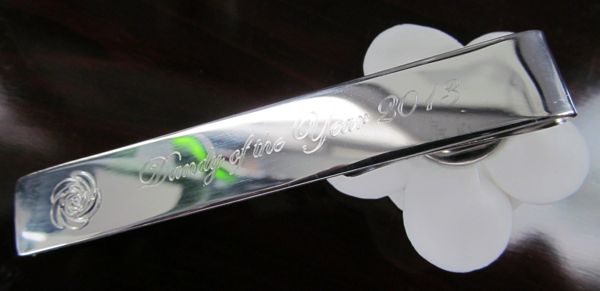 The selection of Adams was not a difficult one. He has proven himself an original thinker on the topic of dandyism, and is fond of quoting Epictetus, 1st-century Greek sage and Stoic philosopher:
I aspire to be the purple stripe, that is, the garment's brilliant hem. However small a part it may be, it can still manage to make the garment as a whole attractive. Don't tell me then, 'be like the rest,' because it that case I cannot be the purple stripe.
That saying not only appears at the very beginning of Natty's introduction to "I Am Dandy," which is already getting a second printing, but its opening phrase is also stitched into the underside of the jacket collar of one of his 30 bespoke suits. (Personally, if we could be any article of clothing, we'd be Kate Upton's bikini).
Natty comes to his dandyism quite naturally: he is descended, on his mother's side, from the Maharaja of Indore, Yeswant Rao Holkar, whose elegance was immortalized in oil by Bernard Boutet de Monvel. But Natty also nurtured his dandyism. He emerged from an adolescent latency period taking cues from John Steed: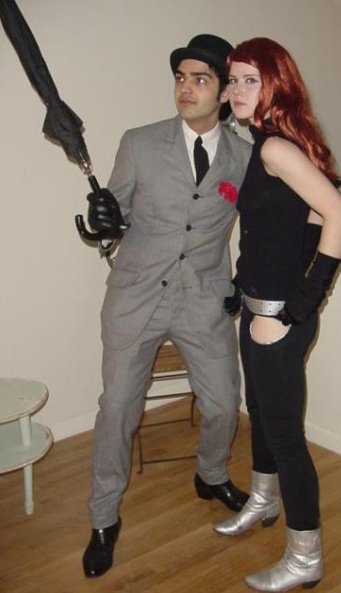 … then later Oscar Wilde: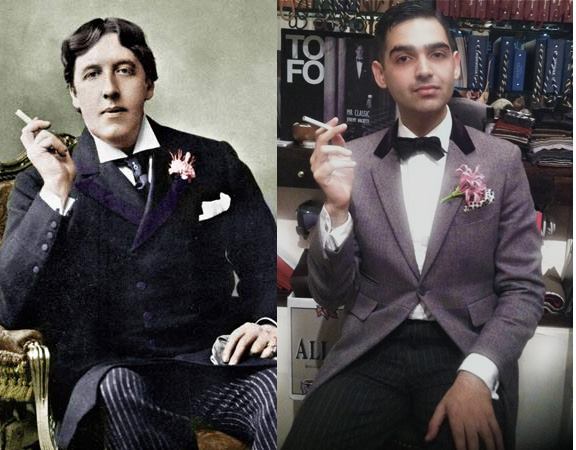 While an undergraduate at NYU Adams essentially majored in dandyism, then received an advanced degree in that subject from Columbia, where he won a prestigious Lytton Fellowship. He used the funds from the Fellowship to travel the world to visit such dandy shrines such as Savile Row and the Congo, where he spent a week with the Sapeurs. The ultimate result of Natty's travels was "I Am Dandy," which in 2013 raised worldwide understanding and misunderstanding about dandyism through favorable coverage in such prestigious media as The London Times, CNN, and I Am A Dandy Cat.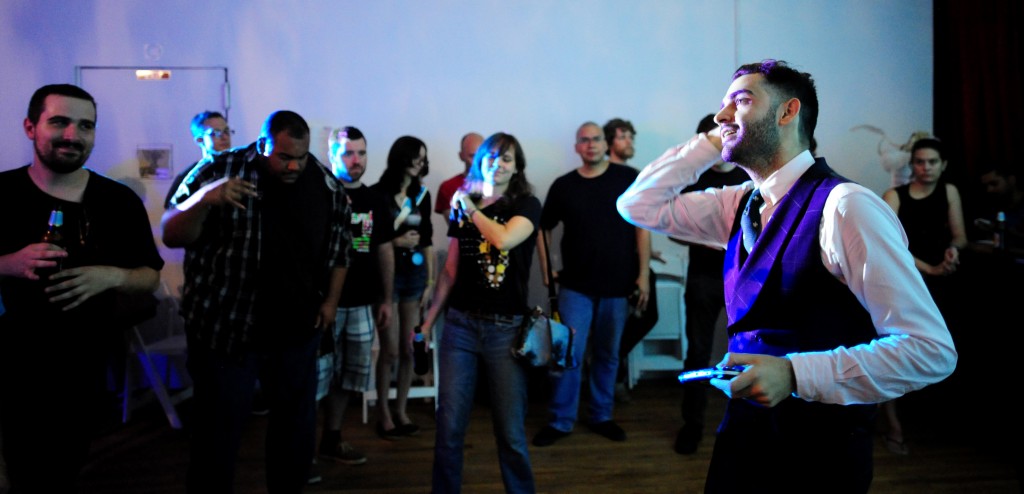 As if that were not enough, Natty has found for himself the epitome of a dandy profession. He is just ending an illustrious stint as general manager of the Against Nature atelier in New York City.  He doesn't perform any manual labor, such as sewing a button. As far as we can tell, his remit seems to limited to designing the details of his personal bespoke suits — such as his signature double breasted and lapeled waistcoats — and having his photograph taken with celebrity clientele, such as Bond Girl Alan Cumming from "Goldeneye."
We take an avuncular pride in Natty's success. He started his descent into dandyism here at D.net, writing a review of the play Beau Brummell starring Ian Kelly, Brummell's most recent and complete biographer, and a post covering a panel discussion about dandyism (with the term "discussion" used loosely).
Natty, though, certainly has his peccadillos. He composes and performs chip music, a type of synthetic music generated from the sound chips of vintage computers, video game consoles, and arcade machines. At least he has the good taste to wear a tie and a vest while performing. A card-carrying atheist, in the afterlife Natty will undoubtedly burn eternally in hell. But he'll have the consolation of being one of the best dressed men at the roast, seated at the right hand of Brummell.
So here's to you, Natty Adams, Dandy of the Year 2013. While most men are content to accept mediocrity and walk around in a purple haze, you are the purple hem. Now please go and conduct yourself with the reckless disregard and selfish irresponsibility befitting the office. — NICK WILLARD & CHRISTIAN CHENSVOLD