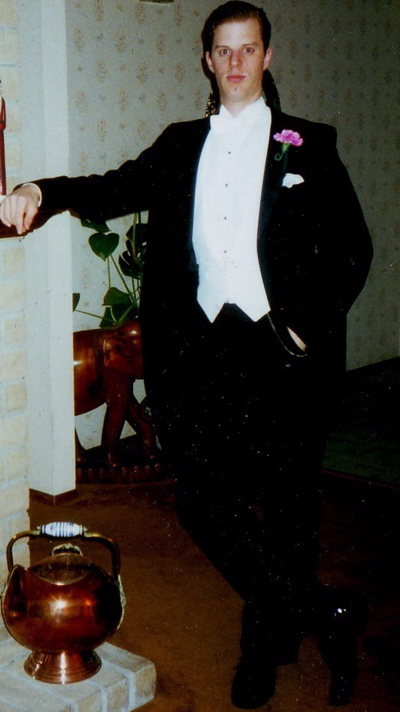 Ten years ago D.net was a mere glint in his diabolical monocle, yet even then webmaster Christian M. Chensvold had a vision of restoring the misunderstood, much-maligned dandy to his rightful place in society.
So he chose the two-hundredth anniversary of Brummell's resignation from the dragoons to publish his pseudo-scholarly, teacup-shattering interpretation of dandyism.
Like a dapper gent charming his way into parties he wasn't invited to, Chenners had been insinuating articles on dandyism into obscure publications since the age of 24. There was Cochran's, a regional antiques newspaper for the Sonoma Wine Country, and Victorian Decorating & Lifestyle, a magazine for Anglophile housewives that went under in 2002, fueled by the rise of Ikea.
At age 27 Chensvold began dating a Deco Belle and was able to talk his way into the pages of The Sophisticate, the journal of the Art Deco Society of California, with an article on Deco-era dandies.
A year later an expanded version of the story ran on Retroactive.com. Unfortunately the site soon disintegrated into the Internet ether, sucking the seminal article along with it.
However, for a time the site was one of the top-five "dandyism" results on Internet search engines, so it's no surprise that several passages soon thereafter appeared verbatim in a certain Brit's breezy instruction book on the topic, without so much as a tip of the homburg.
And so Chensvold's mini-masterpiece joined the statue of Zeus at Olympia and the dodo bird among mankind's lost treasures — that is until now.
Through advanced technology, we were able to retrieve this Dead C Scroll of Dandyism.net, which we now present for your edification and amusement. We have corrected typos and made it conform to the D.net Manual of Style, but otherwise the text appears as it did 10 years ago.
We also found a photo of what Chensvold looked like during the article's composition. He is pictured above stepping away from his desk for a cup of coffee.
Originally planned as a trilogy, the article was hastily expanded to four parts to mollify a cranky homosexual who complained that the first three parts neglected gay dandies. Though Noel Coward and Harold Acton were featured prominently, the reader was no doubt miffed that Chensvold thought their sexual orientation completely irrelevant to their dandyism.
The article gives priceless insight into D.net's conception, not to mention the stories we've been recycling for the past three-and-a-half years. It's also worth pointing out the earnest and fervent tone of the prose (note debt to Barbey in several turns of phrase), compared to the cynical, cold and ironic tone Chensvold espouses today.
 He has certainly evolved into a true dandy.