The Parks Of London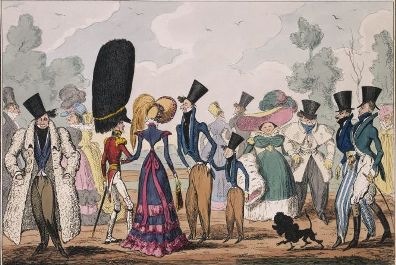 Excerpted from "The Parks of London"
Belgravia, 1868
By Mary Elizabeth Braddon
But we must pass on to the dandies and other oddities of the Regent's time — dandies whom our own fathers have shaken hands with. In 1815 the Park was more rural-looking that it is now. Captain Gronow describes cows and deer grazing there under the trees. The paths were fewer, the borders less built on; the air was purer, the company smaller and more select. The middle classes, who now acknowledge no one above themselves, then abandoned the Park to the leaders of fashion and to old money; no shabby-genteel hired carriage then, but the old régime of emblazoned hammer-cloths with massive silver badges; solid coachmen in powdered wigs sunk into their downy seats; and plump-legged footmen, powdered gorgeously, hanging in a cluster behind. The dandies who then met in the Park at five wore blue coats with shiny brass buttons, deep stiff white cravats, leather breeches, and top-boots; and a manly dress it was, if a man had a leg worth showing.
The chief beauties in those days were the Duchesses of Rutland, Argyle, Gordon, and Bedford; Ladies Cowper, Foley, Heathcote, Louisa Lambton, Hertford, and Mountjoy. There was the Prince himself, débonnaire and (when he chose) amiable, conspicuous for his fine curly wig and portly figure, with Sir Benjamin Bloomfield as his companion on horseback; the florid stout Duke of York and his friend Warwick Lake; the Duke of Dorset on his white horse; the Marquis of Anglesea and his beautiful daughters; Brummell, of course; Lord Harrowby and the Ladies Ryder; the Earl of Sexton and the Lady Molyneux; the Earl of Moreton and his long-tailed grays. Those were the three-bottle days, the days of high lay, of pugilism, stagecoach driving, and dueling.
About 1801, one of the most conspicuous characters in the Park was a tall, thin, elderly West Indian, with a sallow wrinkled face, who, wrapped up in costly furs, paraded in the drives in a shell-shaped carriage drawn by two fine white horses. The eccentric but handsome vehicle was covered with the owner's heraldic device — a cock crowing. This shallow, inane, yet cunning-looking man was that celebrated amateur tragedian, Mr. Romeo Coates. He was supposed incorrectly to be a second Crœsus; and he appeared at London balls covered with as many diamonds as Count Esterhazy, who was popularly supposed to drop three-hundred-pounds' worth of them every night he went out. His buttons, even his knee-buckles, glistened with diamonds. Insanely vain and utterly foolish, Romeo Coates appeared on the stage as Shakespeare's youthful lover, first at Bath, and then at the Haymarket. The ridiculous being wore a spangled cloak of sky-blue silk, red pantaloons much too tight, a white-muslin vest, an enormous bolster cravat, a Charles-the-Second wig, and an opera-hat. No burlesque was ever half so funny. He bowed to the audience in the most extravagant way and with a hideous grin; he took snuff in the middle of the balcony scene, and on some one asking him for a pinch handed round his box to the nearest spectators. He dragged Juliet from the tomb as if she were a sack of potatoes. When, finally, he had to die, he put down his opera-hat for a pillow, and swept a place clean with a dirty silk handkerchief. Three times did this extraordinary idiot die for the amusement of the house. This half fool, half cheat, was at last driven from the stage for pocketing money he had obtained under pretense of playing for a charitable object; he retired to Boulogne, and there married some foolish woman, who was probably duped by his pretended wealth.
But men like Romeo Coates and Peagreen Haine (so called from his favourite costume) were mere passing meteors in Hyde Park; Beau Brummell was the central sun — the Regent's favourite, "the glass of fashion and the mould of form," the cynosure of everybody's eyes and the best-dressed man of his day. Lord Petersham might invent a coat, and Lord Spencer an eccentric garment; but Beau Brummell was the king of the dandies, the emperor of society, and the successful rival of the proudest nobles of England. Brummell was the son of a steward: having a handsome person, considerable wit and sound tact, and being known at Eton as a good scholar, boatman, and cricketer, he cultivated friends among the young noblemen; and on leaving school entered a crack regiment, and, under the auspices of the Duchess of Devonshire, was soon launched into society. Everything he did, said, and wore was admired as a matter of course. He had the finest Sèvres china snuff-boxes, the most exquisite walking-canes; his horses were of the best blood, his carriages of the highest style. His cravat was a marvel (it is supposed he threw away armfuls every day before he attained his success). Men of fashion felt a sort of religious awe as they passed over the threshold of Weston, Brummell's tailor, in Old Bond-street. The incomparable creature used jokingly to declare his very blacking was mixed with champagne. His library in Chapel Street was full of the most recherché books; the choicest editions, and, above all, the most exquisite bindings. His furniture was the result of years of study. Nothing could equal the elegance of his manners except his contempt for Bloomsbury Square and of the middle class, from a very humble station of which he himself had sprung. Throned in the bay-window at White's Club, with the Duke of Rutland on one side and Lord Alvanley on the other, his frown could destroy the reputation of a passing dandy, and his approval insure success in the beau-monde. He was a lawgiver as to pantaloons, and a legislator in the matter of boots. In our degenerate days nothing appears so vulgar as the coarse and offensive impudence of his bon-mots, but they were the rage in the three-bottle days; and against this fribble's decision in matters of taste there was for years no appeal. The Regent, who was haughty with a duke, was familiar with Brummell. The tide turned at last, and the Phaeton of Carlton House fell. He dared to thwart Divine Right in its pleasures. He objected to the cruel discarding of Mrs. Fitzherbert for another and a less worthy favourite. The Regent at once broke in two the glass idol of Bond-street. He struck him two blows; one was for standing between him and the new siren, the second for asking at Lady Cholmondeley's ball, "Who is your fat friend?" The second blow was struck in a way worthy of the Regent's mean spirit of revenge. He asked the Beau to dinner, under the garb of reconciliation, and when the Beau had taken rather too much wine, rang the bell, saying to the Duke of York, "I think we had better order Mr. Brummell's carriage before he gets drunk."
It was a strange rise, it was a miserable fall. The tuft-hunter's debts had accumulated like an avalanche, and like an avalanche they soon came rolling down upon him. He became consul at Caen, lost the appointment by some imprudence; and, retaining to the last — even when poor, paralysed, and imbecile — his old affectations, died in Calais, a poor forlorn, driveling, beggared exile.
Parson Ambrose was another celebrity of the glorious and lamented days of the Regency. He was a natural son of Lord de Blaquiere. He had been a friend of the Duke of Wellington in his early wild days in Dublin, and when in distress in Paris the Duke on one occasion gave him 100₤ to take him back to town. Captain Gronow describes meeting Parson Ambrose at the Duchess of Orleans' Sunday soirées in 1816. The parson, who had the manners of the old régime, wore black-silk breeches with buckles at the knees, buckles on his shoes, and shirt-frills of the finest Malines lace.
Lord Petersham was another celebrity of the Park. He was a tall, handsome, hearty-looking man, with a very gracious smile, an affected manner, and a slight lisp. He chose brown as a colour (it is said from his having once been in love with a fair widow named Brown): his carriages were brown, his horses were brown, his livery was brown. The shelves of his favourite room were covered with tin canisters, snuff-boxes, and snuff-jars. When some friend one day praised his light-blue Sèvres snuff-box, Lord Petersham said in his dainty, tip-toe sort of way, "Yes, it's a nice summer box, but it would not really do for winter wear." Such was the extravagant foppery, sometimes humorously conscious of itself, that distinguished the gentlemen of the Regency.
In those days, the Four-in-hand Club was one of the great shows and wonders of Hyde Park, for to drive a stage-coach was then considered the perfection of human felicity. Lords and baronets at that period handled the ribbons and took the passengers' fees; and to wear a heavy drab box-coat with six capes, and to talk the slang of the Gravel-lane Cockpit and the jargon of Cribb and Belcher, was to become worthy of Lord Barrymore's friendship, and of the esteem of the excellent Lord Yarmouth and Lord Harborough. Lord Sefton's four bays were as well known then as the stylish turns-out of Sir Bellingham Graham and Mr. Cholmondeley of Vale Royal. The pace of this fashionable club never exceeded a trot, and it was a rule that no coach in their procession should try to pass another.
A little later and we see in the Park, among the smaller celebrities, "King" Allan — a tall, stout, portly viscount — who was a special support of Crockford's. In his youth he had fought well at Talavera, but latterly became merely an authority with tailors, and an oracle at the Opera-house. He was the man who could not sleep away from the noise of London, and who, when he went to Dover with Lord Alvanley, hired a coach to drive up and down before the hotel-door all night, and the boots to shout at proper intervals, "Past –, and a stormy night!" Like most of the dandies, Lord Allen broke down financially at last, and he ended his days at Gibraltar.
Ball Hughes — "Golden" Ball, as he was generally called — was another character of 1820 or thereabouts. He was a handsome, agreeable man, who had been in the 7th Hussars: he married Mademoiselle Mercandotti, a Spanish opera-dancer. He also died abroad impoverished, after a reckless life of gambling and extravagance.
Of the same date was Byron's friend, Scrope Davis — a scholar, wit, and dandy of the first class. The son of a Gloucestershire clergyman, he played very high, and eventually, half ruined, retired to Paris. He is said on one occasion to have won the entire fortune of a young man of property, and to have returned it to him on his promise to abandon for ever the fatal green cloth.
But in this rapid résumé of the dandies of the Regency and later, we must not forget that handsome son of one of Napoleon's generals, Count d'Orsay. To judge from Mr. Chalon's sketches of him, he must have been very handsome. That glory of the Parks thirty years ago was a man six feet high, with a broad chest, narrow waist, and finely-formed feet. His chestnut hair fell in long waving masses; his eyes were hazel; his forehead was high and broad; his features were regular. He was a good swordsman, a fine horseman, and a fair shot. Captain Gronow, who knew him well, says that he was in the habit of taking perfumed baths, and that his enormous gold dressing-case required two men to carry it. He also got over head and ears in debt, and died in Paris in comparative obscurity.
But the ghosts of the dandies press on us in phantom crowds, and clamour for notice. There is Sir Lumley Skeffington, with his high shoulders, and old Q. himself — amorous patriarch; Sir Godfrey Webster, handsome and stalwart dashing Captain Claggett, and elegant Sir Roger Gresley. Beautiful Lady Jersey and enchanting Lady Blessington, you too we must, ungallantly, leave unrecorded, for the whole Magazine would not be large enough even to chronicle the names of the Park beauties of the last half century.