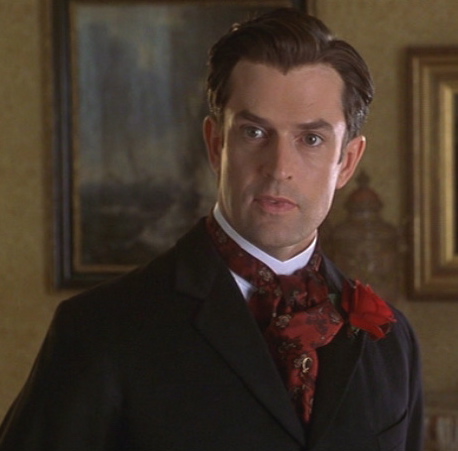 Hugh Grant, that blend of Christopher Robin and cuddly roué, is the ideal cinematic Englishman. Take the hesitant stutter and the shyness of his "I can't quite look at you" glances when romantic ardor sets him a-flutter. Once the self-deprecating head bobble reaches full throttle and that adorably thatchy forelock gets loosened, he becomes the actor's equivalent of a Pimm's Cup: jaunty, pedigreed and oh-so-English.
But Hugh Grant is no Rupert Everett.
Even the most indulgent of British nannies would never describe Everett as a cuddly performer. With his craggy aristocratic grandeur, coolly direct gaze, and a self-assured sensuality that combines '30s matinée-idol aloofness with modern intensity, Everett radiates a more adult and complex presence than Grant's twinkly boarding-school heartthrob. Everett may be too British — or at least the wrong kind of British — for filmmakers who want to rope in the megaplex masses, and his brand of posh throwback glamor has surely kept him from the top ranks of bankable leading men.
In two Wilde film adaptations, though, these rare and magical qualities are the paramount reason why Everett is the ideal cinematic dandy of his generation.
Everett and writer-director Oliver Parker collaborated on "An Ideal Husband"(1998) and "The Importance of Being Earnest" (2002), and as Lord Arthur Goring and Algernon Moncrief, his performances are a lesson in what every Wildean hero strives for: creating a distinctive and dazzling effect that seems effortless. Bringing these characters to life demands an arsenal of skills, chief among them a buoyant wit, physical flair, and timing as impeccable as the cut of a bespoke morning coat. Everett deploys them all with an aplomb that makes it look dammed easy, pulling off the ultimate dandy hat trick.
Instead of museum pieces in which white-tied twits ricochet curlicues of epigrams around a drawing room (as in the classic Monty Python takedown of quip-a-minute Oscar), each of the films has sheen of lively debonair fun thanks to Everett's affinity for Wilde's high-comic style. Everett is also a modern actor who seems genuinely at home in period material. Perhaps that's simply something that comes with the British genetic package, along with the ability to consider fish as a breakfast entrée. For many American performers, if a holster can't be hitched to a costume, then trouble's ahead. Witness John Malkovich's world history of hairpieces, or Kevin Costner's Robin Hood, more at home in an Iowa cornfield than Sherwood Forest. Dress 'em in satin breeches or nubbly tights, but they're still clearly 21st-century guys.
In "An Ideal Husband," Everett is the ultimate and oddly contradictory dandy, a self-obsessed idler who proves to be the generous key to a couple's delivery from scandal, and a man fully dedicated to life's bachelor pleasures who willingly succumbs to dreaded domesticity. One scene in particular captures the essence of Everett's creamy English charm. The shady Mrs. Cheveley, played by Julianne Moore, has come to Goring's rooms in order to offer a bargain that will allow her former lover to save his friend Sir Robert Chiltern's political reputation and marriage: rekindle their romance and she'll tear up an incriminating letter. A battle of wills disguised as a seduction, their duet plays out in a shadowy sitting room, with Moore enticing in a low-cut gown and Everett pressing close to her in white tie. There's a vivid sensuality to their byplay, carried out partly in seductive purrs and partly in silken threats. Everett's hand traces the curves of Moore's neckline and arms, trying to caress her into submission and wrest the fatal letter from her hand. The scene, full of tension and an overt passion, showcases exactly why Everett's performances feel so natural in both of these films. In a twist on the classic description of the Astaire-Rogers partnership, Everett brings both class and sex to the equation.
Everett's comic sensibilities leaven the romantic melodrama of the plot, as well as energize his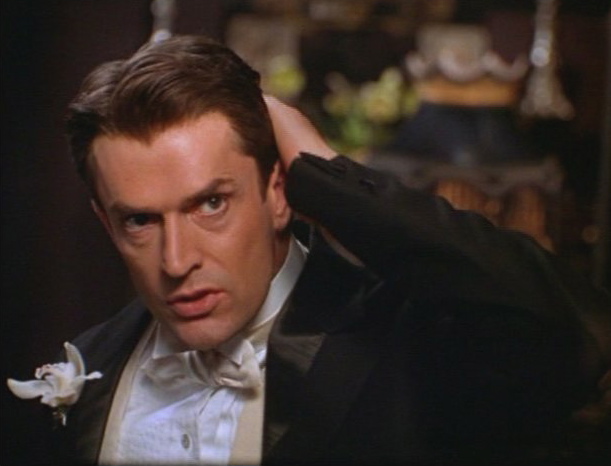 fellow actors. John Wood fizzes with bluster as Goring's disapproving father Lord Caversham, mining the charm in a role that can be a one-note scold. He and Everett face off with gin-dry wit and wittily matching noses. While Jeremy Northam and Cate Blanchett as the Chilterns are relegated to roles that demand, respectively, pained nobility and luminous nobility, Minnie Driver as Mabel Chiltern gets to conduct a near-screwball Victorian courtship with Everett. The actor shoots a priceless half mocking, half self-satisfied "Aren't I wonderful?" look at Driver as he lowers himself to one knee to pop the question, and it's clear that Miss Mabel's union, though perhaps less high-minded than her brother's, will be a hell of a lot more fun.
Everett's Lord Goring is a gliding, languorous seducer (appropriately first seen asleep after an amorous night), a dandy whose subtlety of manner and style are his hallmarks. His Algernon in "Ernest" has a bounding energy that matches the speed and style of Wilde's farce. Algy races through the nocturnal streets of London under the opening titles, evading, we later learn, a posse of creditors. Lord Goring might slightly quicken his step if absolutely necessary, but he'd never be seen sprinting in public. Algy will later descend on the rural retreat of Jack Worthing by hot-air balloon — jettisoning a considerable cargo of dressing cases as ballast — dashing in wearing jodhpurs and leather and filling out the unusual contours of dandy as action man.
In both films, Everett also gets to fill out the contours of some splendid costumes, which he inhabits with grace and flair. Whether it's Goring's frock coats and white tie or Algy's tennis whites and velvet jackets, he makes these beautifully tailored outfits extensions of himself as both actor and character. When in "Earnest" he rises from a piano bench in a scarlet, quilted-collared dressing gown you half expect John Singer Sargent to appear and commence a portrait.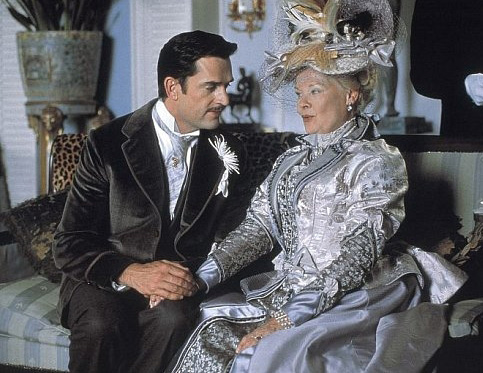 For all his elegance, Everett can also carry off a gentlemanly goofiness in the Cary Grant mold. Watch him use a cigar and crumbs from an alfresco lunch to great effect when Algy-as-Earnest is confronted by a Jack none too happy about his fictional brother's resurrection from a Parisian deathbed, or the gusto with which he turns to a plate of muffins as buttery consolation for Cecily's temporary abandonment.
Everett's characters in these adaptations nimbly balance charm and irresponsibility, vanity and romantic affection. Wilde's women see through the poses of their partners, falling for the hearts beneath the buttonholes and fashioning bridegrooms out of dandies in spite of themselves. In some ways, too, Everett is a leading man in spite of his own seeming carelessness as an actor, a man whose naughty-aristo glamour can obscure a cultivated and skilled comedian. David Denby in his New Yorker review of "Shrek the Third" writes that Everett has become so snide as an actor that he's uncastable as anything but a voice. Everett's offhand, anachronistic stylishness is a distinction that's not necessarily an asset in an industry in which Jack Black is considered an insouciant farceur.
In the heyday of the great studios, Rupert Everett would have been David Niven or Rex Harrison, or at the very least Michael Rennie, an earlier British bundle of tall, dark and cheekboned whom Everett resembles. Today he's in danger of becoming a buffed Basil Rathbone. Before that happens, get this man into a dressing gown for a film of "Present Laughter" or "Blithe Spirit." Or how about letting Everett show off his singing voice as a sexy Sir Evelyn Oakleigh in "Anything Goes"? What kind of spin would he put on any of the leading male roles, even the dour Earnest, in "Design for Living"? As delightful as it may be to speculate on these performances, it's sadly unlikely that we'll get to judge the results. Plastic martini glasses don't exactly lend themselves to Happy Meal promotions.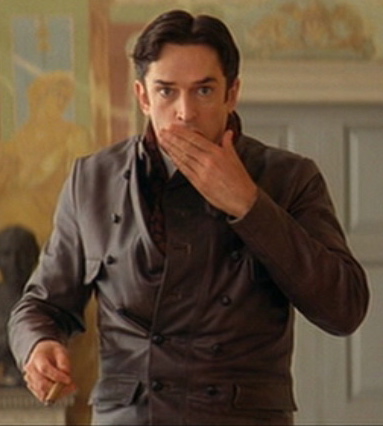 In a time when so many actors are simply cell-phone snapshots, Rupert Everett is a golden-age Hurrell portrait. Gloriously artificial and artfully suave, he can seem a visitor from another cinematic era, one in which masculine style had an unapologetic polish. We should be grateful that Everett's performances as two of Wilde's most engaging dandies have been captured in these gilt-edged adaptations of "Husband" and "Earnest."
In "The Picture of Dorian Gray," Lord Henry Wooten — another wish-list Everett character — observes, "I love acting. It is so much more real than life." Both Lord Henry and Wilde himself would have applauded Rupert Everett turning that aphorism into an actor's credo.