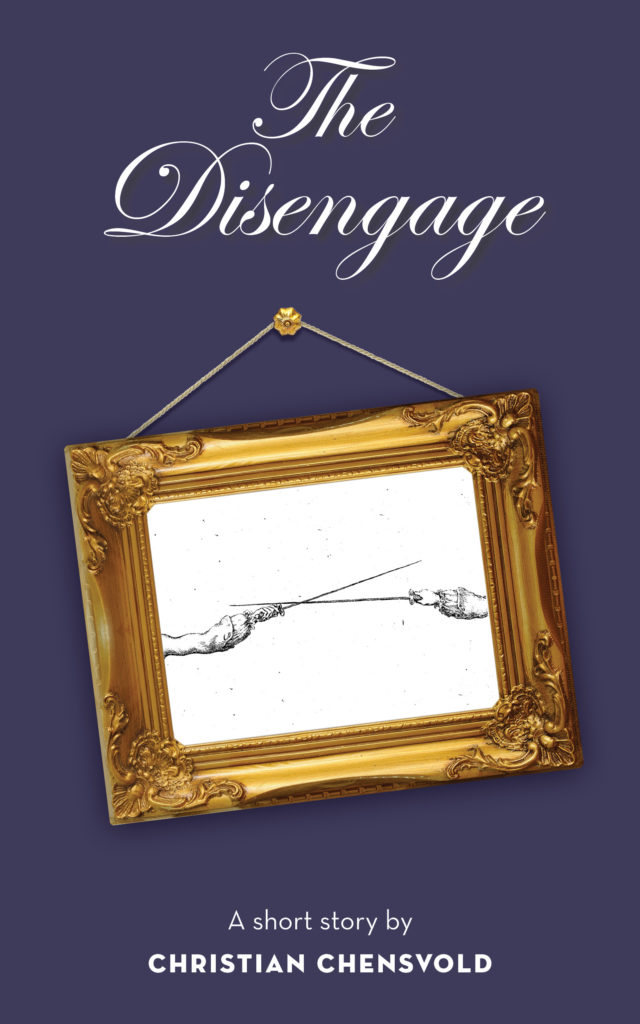 Gentlemen, after 25 years of immersion in dandyism, decadence and aestheticism, I've finally dreamed up my own pastiche of the themes and tropes.
Available as of today on Amazon is a short story entitled "The Disengage" — a fencing term that has several meanings in the text — which is set in New York on New Year's Eve of 1899 and culminates in a duel in Central Park on the first morning of the 20th century. It's a kinky, gender-bendy black comedy told in the form of a society gazette gossip column. It's available as print-on-demand from Antenna Books for $3.99, or $2.99 on Kindle.
Here's what colleagues are saying without even requiring a bribe:
"The Disengage" is an iridescent tribute to the opulent decadence of the 1890s, veritable catalogue of references, an archive of echos, an inventory of allusions to The Lavender Decade. Wilde and Wharton, and perhaps Whistler appear between the lines of this filigreed bonbon along with Aubrey Beardsley and Max Beerbohm, not to mention a touch of Dorothy Parker. But it's only good fun if you like the period, puns, word play, impeccable literary references, and the juxtaposition of hilarious aesthetic concepts. A parody of a greeting card to an age when society merely demanded a well-tied neckcloth and knowing which fork to use." — G. Bruce Boyer

"Mix a cask of Amontillado and a brace of absinthe, Christian's witty satire is an acidic take on Mrs. Astor's Gilded Age and is a very jolly yarn that purviews an evil eye for our own age." — Richard Press

"Lovers of the Belle Époque rejoice! Christian Chensvold is well versed in Aestheticism and Decadence and he has melded his erudition with a Saki-like talent for satire in "The Disengage," a rollicking 21st-century riff on the fin-de-siècle. As Holbrook Jackson observed in his masterpiece The Eighteen-Nineties, "Decadence in any art is always the manure and root of a higher manifestation of that art." The Disengage is the highest manifestation of the art of decadent writing: it is pure manure." — Nick Willard, Dandyism.net
And here's an excerpt:
Robert cuts a ghostly, elegant figure, svelte and wan and looking as though he'd had his élan vital drained by a succubus from the morbid canvas of a Belgian symbolist. His eyes suggest fog over the canals of Bruges, and he is tailored in misty shades of dove, mouse and pearl gray. His cravats (from Charvet, naturellement) are woven in muted shades of mint and lavender, held in place with utmost nonchalance by a lapis-lazuli stickpin by Lalique. His shuffling, adagio gait suggests centuries of thinning blood, cultural exhaustion, the Decline of the West. Should you engage him in conversation, you'll find his badinage brimming with recondite references that float from his stern lips and waxed mustache like a melancholy melody of Debussy strummed on a very old and tightly strung harp.
You can order it right here. Miss you myrmidons! — CHRISTIAN CHENSVOLD