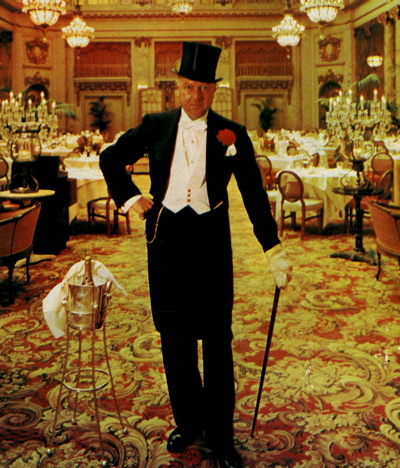 When Dandyism.net launched four years ago, we stated as our mission the desire to rescue the dandy from the slag heap of history through rigorous scholarship and unflinching self-righteousness.
Now it is time to rescue one particular dandy: Lucius Beebe, an all-but-forgotten American original who barely warrants a mention by the academics of dandyism, who are more concerned with muddled abstractions like "performance" and "self-invention" than the tangible plumage of top hat and tails.
To Beebe, this plumage was essential as it was to Fred Astaire. In donning it, Beebe simultaneously defined himself, an era, and the new genre of celebrity journalism. His gold-headed cane cut a wide swath through stuffiness, social conventions, and hoi polloi (he was called a notorious "peasant baiter"). Beebe's patrician style was unmatched, as was the notoriety his wardrobe brought him.
During his lifetime he was equally as famous as the stars and socialites who populated the small and swank universe he called "crazy luxe," but within a few years of his death in 1966 he all but disappeared from public memory.
"The Passionate Spectator" columnist and burgeoning staff biographer Robert Sacheli, whose appreciations of Noel Coward and Fred Astaire have brought D.net acclaim on the Web and in print from as far away as New Zealand, ransacked a bevy of buried texts on Lucius Beebe in preparation for what is certainly the freshest and most thorough account of the man written in many decades, which will be presented in three parts.
The Junta encourages its faithful myrmidons to join us in a toast to Sacheli for his assiduous research, and to a long-lost member of our fraternity.
Welcome back, Lucius.
Lucius Beebe: Part One
By Robert Sacheli
On a beautiful cloudless afternoon in San Francisco in the late 1930s, there were probably hundreds of luncheon parties being thrown, but only Lucius Beebe could have thrown this one.
The exact menu is unknown, but knowing Beebe it likely began with champagne, moved on to dishes rich and rare, and concluded with cognac and cigars. Then, to clear the meal's remains, Beebe later recounted, "We threw the eggshells and other incidentals on Mr. Hearst's elegant San Simeon estate."
The luncheon, you see, took place on a Goodyear blimp. Among the clouds it was champagne, laughter, and eggshells aimed at America's richest newspaper baron, while thousands of miles away the world prepared for war.
This is how Lucius Beebe spent his life: host of an endless moveable feast as untethered to the realities of time and place as that balloon floating above the Pacific coast. Beebe was a supreme example of the detached ironist laughing at the foibles of the modern world, but that vantage point came at the price of a kind of splendid isolation.
There was a time when Lucius Beebe was the most famous dandy in America. Fifty years ago, housewives in Fresno could tell you the number of suits in his well publicized wardrobe (there were 40). Commuters driving home to Westbury or Winnetka could describe the décor of his private railcar (Venetian Renaissance, complete with Turkish bath). And young men imagining a life beyond Springfield knew which of his lapel ornaments had been temporarily swiped by a socialite at a Noel Coward opening night (a diamond gardenia worth $10,000).
But say his name today and you'll likely be met with an expression as empty as a speakeasy raided by New York's finest.
Beebe was an author, bon vivant, and unrepentant Tory; a connoisseur of fine wines, railroad lore and bespoke haberdashery; and, due in great part to his own indefatigable efforts, he was once a legend on the order of Beau Brummell, King Kong, or P.T. Barnum — notables with whom he shared not a few idiosyncrasies.
At the heart of Beebe's outsize personality were two characteristics he cherished above the rest. He was, according to his longtime partner, "an individualist and, by virtue of his own time machine, an Edwardian." A Janus in a derby, Lucius Beebe was the first retro-eccentric dandy of the modern era, a distinction made more fascinating by the fact that 1.5 million readers once thought him the most up-to-the-minute man in New York.
You Must Have Been a Beautiful Beebe
Lucius Morris Beebe was born 1902 to a wealthy clan in Wakefield, Massachusetts, and his education was as notable for its peripatetic nature as it was for the quality of the institutions through which he passed. Amateur explosives and amateur drinking got him booted from the first two of his three prep schools. At Yale, where he lived in a room with a roulette wheel and a bookcase that revolved into a bar, his primary pursuits were nightlife and shocking classmates with his clothing. He also tossed off much verse of dubious quality, and the opening of one poem ("I am weary of these times and their dull burden/Sweating and laboring in the summer noontide") shows that his nostalgia was already firmly entrenched. Very little sweat and labor clouded his own noontides, and he was known to appear at early-morning classes in the previous evening's white tie and carrying a gold-headed cane, the effect enhanced by his lanky 6'4″ frame.
Drink once again hastened his departure from the halls of academia, though more indirectly this time. Outraged that a poll of Yale Divinity School students showed overwhelming support for the enforcement of Prohibition, he fired off a pseudonymous letter to the campus newspaper, a missive whose phrases ("… out of the colossal cavity of their ignorance… innocent device that proved a pleasure to Jesus Christ… exhibit their poltroonish idiocy… Such whim-whams we may look for in pretzel-varnishers… dodos and dinosaurs at large on the campus") hint at the arabesques of prose that would come to characterize his writing career.
The dean of the Divinity School made his disapproval known to Beebe, who later tried to get the last word by rising in a box at a local theater, resplendent in fake whiskers, and announcing "I am Professor Tweedy of the Yale Divinity School," before lobbing an empty liquor bottle on the stage.
Yale had the last word, and it was "goodbye."
After a year on a Boston newspaper, Beebe packed up his poetry notebooks and canes and headed to Harvard, where the muses and the high life continued to call in equal volumes. Wolcott Gibbs, in a delightfully cockeyed 1937 New Yorker profile of Beebe, captures the undergraduate dandy: "When his father was amiable and funds were high, he ate magnificently at the Touraine — he wore a monocle, and was embarrassed when it fell into the soup and had to be fished out and dried by a waiter."
Graduating in 1927, Beebe continued studies at Harvard, focusing his graduate thesis on the work of poet Edward Arlington Robinson. As part of his research, Beebe borrowed from the poet the manuscript of deleted sections from one of his works but found more than just a scholarly use for them: He had them printed as a limited-edition volume of 17 copies. When a fellow student alerted Robinson of Beebe's publishing operation, the writer and Harvard were understandably concerned. Beebe confronted the tattletale in his rooms. Gibbs recounts that "a heavy bookcase fell or was thrown," causing serious injury to the man, and "Harvard, not unreasonably adverse to being the scene of a trial for manslaughter, took action promptly, and for the second time Lucius was a martyr to culture."
Dateline Babylonia
After a sojourn at another Boston newspaper, in 1929 Beebe was hired by the New York Tribune at $35 a week, and at first it looked as if he'd last about as long there as he did at one of his prep schools. Factual reporting of the more mundane events and calamities of urban life did not inspire his pen. He was known to attend fires in morning dress. Switching his beat to theater and movies proved equally unpromising. He called Hollywood "the outhouse civilization of the world, full of preposterous mountebanks and bores who live in the most witless and spurious manner ever devised." He also filed interviews with performers in which, according to Gibbs, "it could be observed that the subjects, both men and women, spoke in an educated and haughty manner, rather reminiscent of Mr. Beebe himself."
In 1933, the manager of the Herald Tribune's syndicate found a subject that was the perfect match for Beebe's singular personal and journalistic styles: New York life itself — specifically, the part of it that was riotously conducted between sunset and the appearance of the milkman. The general idea was to chronicle the city as "a Babylonia-on-the-Hudson, sinful, extravagant, full of the nervous hilarity of the doomed," says Gibbs, and no more ideal scribe could be found than that "richly upholstered Babylonian" from Wakefield.
Beebe's timing was as impeccable as one of his evening emsembles. The long cocktail party of the 1920s and the hangover of the early years of the Depression had played havoc with the old-style status quo, and New York saw the emergence of a new kind of elite, a spangled crowd that came to be known as Café Society. Though the term itself was initially spun by columnist Maury Paul (who wrote under the name Cholly Knickerbocker), it was Beebe's syndicated column "This New York" that made it a household phrase for glamor-hungry readers from Philadelphia to Seattle (and, for several months, a few bewildered ones in Ketchikan, Alaska, whose local editor took on the column not fully aware of its content).
In contrast to the old-money crowd that dominated New York society for generations, Beebe explained that Café Society was a very modern phenomenon. It was the product of journalism in which gossip and scandal were increasingly important components, and a byproduct of a city where being seen, particularly at the burgeoning number of smart nightspots, was more important to celebrity than simply being rich during daylight hours. Café Society, as he defined it, was "an unorganized but generally recognized group of persons whose names made news and who participated in the professional and social life of New York available to those possessed of a certain degree of affluence and manners."
So goodbye Mrs. Astor, hello Tallulah Bankhead.
Beebe provides a run-down of what filled the calendars of the set's glamor girls, entertainers, debs, and the well dressed and well funded of both sexes:
It was this amiably demented whirl of scrammy entertainments, Elsa Maxwell levees, Fifty-second Street morris dancing, whoopsing, screaming, and clogging it to Eddie Duchin music at the Persian Room of the Plaza, making pretty faces for the camera at Gilbert Miller first nights, bicycling through Central Park to charity carnivals, keeping luncheon trysts at the Vendome in Hollywood and being at the old desk next morning, gossiping by the hour on the London phone, and living in a white tie till six of a morning before brushing the teeth in a light Moselle and retiring to bed, which constituted the life of Manhattan's café society.
There was no more energetic proponent of whoopsing, screaming, and clogging than Beebe himself. To his readers, the columnist became inseparable from what he dubbed "crazy luxe," the near-mythical milieu that he covered and in a large part created. But the Beebe who spent his nights at 21, the Stork, the Colony, El Morocco, and the Rainbow Room was also a man who longed for the vanished, gas-lit world of Delmonico's. Gibbs paints Beebe as possessing "the true Bourbon's profound hostility to change, looking much more affectionately on the decent past than any raw new world to come."
Beebe later stated it simply and directly in a recollection of the well mannered Boston of his childhood, extending his judgment to the London, Paris, and New York of yesteryear: "Everything everywhere was better then, and the measure of all worldly wisdom attests to it."
Despite the creative innovators who filled his circle, Beebe's tastes in art, music, and literature were profoundly conservative. Modern forms of writing "depressed and confused him." He covered the 1934 opening of the Virgil Thompson–Gertrude Stein opera "Four Saints in Three Acts" and promptly pronounced it "the fanciest and most utterly Bedlamite flag-raising within recent memory." Airplanes were forever "the Wright Brothers' folly," and equally foolish were travelers who strapped themselves into these "hurtling tubes of death." The first of his many volumes on the romance of train travel appeared in 1938, and Time sniffed "that so soigné a soul as Lucius Beebe should ride a hobby as undandified as railroading is as unlooked-for as red wine with fish."
That paradox, however, was Beebe's greatest party trick. He was the only man who simultaneously managed to be a citizen of the New Yorks of Gypsy Rose Lee and Edith Wharton.