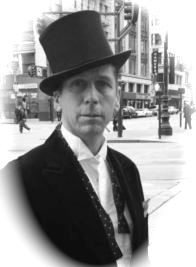 This year Dandyism.net bears the sad honor of awarding its first posthumous title of Dandy Of The Year to the late Michael Mattis, who died suddenly this year at the age of 49.
It was exactly 20 years ago that I first met Michael, and it was the subject of dandyism that had brought us together. After spending his twenties as a cabaret host, ranch hand, vintage clothing dealer, and all the other dilletante diversions listed in his bio, he was finishing college at the ripe age of 30 and had written an article on modern day dandy-decadent retro-eccentrics for the literary magazine of San Francisco State.
I managed to find it, and it was the first time I'd ever come across someone else interested in the topic of dandyism. I tracked Michael down, and although we would both end up working in the Internet industry, in 1995 we began an enthusiastic epistolary friendship sending each other clippings, discussing Tom Wolfe and Beau Brummell, and sealing our letters with wax.
The first time we met he was dressed casually and inconspicuously, probably considering it gauche to get dolled up to meet a man you've been corresponding with about dandyism. He was never much of a clothes horse, and neither invested heavily nor fussed over his attire. But he took a natural enjoyment in wearing clothes, and I remember the first night we went out on the town together, I think to hear the band Lavay Smith & Her Red-Hot Skillet-Lickers at the Cafe du Nord, where Michael seemed to know all the retro gals and corset-designers in the place. Beforehand he needed to change, and with mild embarassment led me to what was one of the most modest dwellings I've ever seen, and which I recall him referring to as "the box." Later, as he commanded increasingly obscene salaries as a "digital content strategist" (whatever that is, as he liked to say), his standards naturally rose in accord.
But that night in a matter of minutes he clawed through his unkempt surroundings and threw on a suit and tie and topped it with a hat as we bolted out the door, and I remember practically exclaiming as we hustled down the dark, empty streets that he looked absolutely smashing. Rather like, dare I say it, a tramp aesthete.
Which leads us to Michael's critical writings for Dandyism.net. As someone who'd done wacky California things like go to Dickens Faires and costume balls, take up fencing and play croquet in the park, he'd been around enough historic re-enactors to know that that should never be mistakenly for dandyism. His role was not that of style arbiter but of critic, a dandyologist, and his interest in the topic never waned throughout his life.
Dandy discourse, at least on the Internet, lost a bright light the night his life was unexpectedly extinguished. Wherever he is, I'm sure there are both angels and devils, and that Michael's enjoying strong drinks and lively conversation with both groups.
Michael, you're Dandy Of The Year for 2014, but you'll always be my first and best confrere in the brotherhood of dandyism. — CHRISTIAN CHENSVOLD