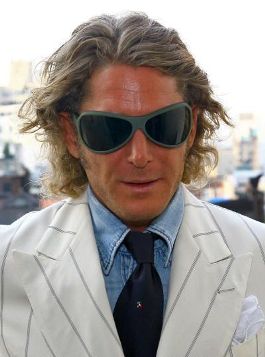 He's young, good-looking and extremely wealthy. He's fluent in six languages and the very definition of cosmopolitan, having been born in New York, raised in Brazil, educated in England and France, and now once again living in Gotham. He's the scion of Italy's preeminent family (the Agnellis, not the Mafia), and is quintessentially Italian. Style and fashion are in his blood, thanks to his aunt Diane von Furstenberg. He's linked with sleek cars and even sleeker women. Perennially named to the world's best-dressed lists, he's officially a GQ style icon.
But that's not why Dandyism.net has chosen Lapo Edouard Elkann its first-ever Dandy of the Year.
D.net salutes Elkann because this year he returned from exile. All good dandies must go into exile, either to escape gambling debts or arrest. Brummell and Jimmy Walker did it. Oscar Wilde did it, but too late. The Duke of Windsor did it, but for love. Celebrities and wannabes like Sebastian Horsley don't go into exile, they merely go to rehab or jail or — worst of all — don't go away at all.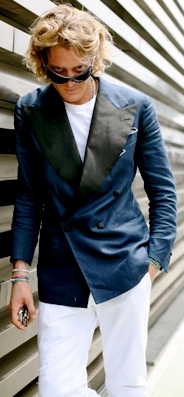 In 2005, Elkann left his job as Fiat's head of worldwide brand promotions and retired from the public eye. In 2007 he returned in a carefully choreographed public-relations campaign that nicely coincided with the launch of his latest venture, high-priced Italian sunglasses.
But more impressive is why Elkann went into exile in the first place.
One of Fiat's two largest shareholders, the paramour of Italian starlet Martina Stella, the handsome face of the revival of the Fiat brand, and the hero of world fashion press, Elkann almost tossed it all away with a near-fatal overdose of cocaine and heroin downed with an alcoholic chaser while partying with Patrizia, a fifty-four year old transsexual hooker, plus two of her business associates, at her apartment in what passes for Turin's red-light district.
Elkann's irresponsibility, even if he were desperate for Laposuction, ranks right up there with abdicating the throne for a mannish double divorcé, and dashing your literary career by dallying with rent-boys while you have two smash plays on the boards.
Of course screwing up magnificently doesn't make a dandy. A dandy must also have elegance and the proper demeanor, and Elkann fits the bill on both counts.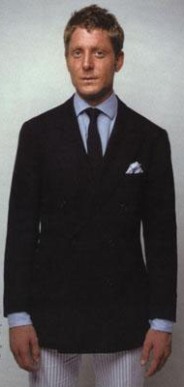 He looks like a dandy should. The 30-year-old's personal style is eclectic. One day he will be precisely dressed in a blue double-breasted suit, spread-collar white shirt, solid tie and puffed pocket square, or a navy blazer and stripped pants with red socks and brown shoes. On the next, he'll wear a bold-check suit with scarf, or he'll spice up one of the impeccably cut suits he inherited from nonno Gianni Agnelli by wearing sneakers with no socks. For daywear he quirkily favors tuxedo jackets in bold and unlikely checks. He's commissioned a Mediterranean-blue suit from the prestigious Rome tailoring house of Caraceni, executed to his specifications, accented by grosgrain lapels with the proportions of a 1959 Cadillac's tailfins and a built-in cummerbund waistband, which he'll wear with velvet slippers.
And increasingly Elkann's slim frame — the product of the gym, bicycling and skateboarding — will be clad in something creatively casual that discreetly exposes tufts of chest hair and several chains and pendants, such as a double-breasted tweed jacket with an unbuttoned lime shirt, or an unbuttoned pinstriped royal-blue Oxford shirt, with sleeves rolled up, tucked into a dark blue pair of trousers cinched, a la Astaire, with a rope. On his best days, he pulls off a brilliant combination of the classic and relaxed with such combinations as a linen pinstripe suit paired with a denim shirt, thereby achieving that elusive sprezzatura.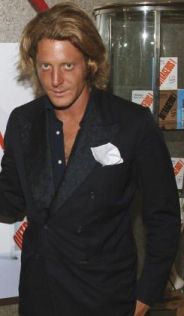 As for his lifestyle, Elkann pursues such dandy hobbies as chain smoking and drinking a dozen espressos a day. He's an accomplished sailor, winning the 2003 Fastnet trans-ocean sailboat race with his older, more responsible brother, aboard Stealth, their ultra-modern yacht. His preferred mode of transportation, when he isn't forced to drive a Fiat-affiliate Maserati or Alfa Romeo, is a very fast, very big motorcycle.
Elkann is charming and social, though perhaps a bit voluble for a dandy. He exhibited a wry, self-deprecating humor by hanging in his studio a poster for "I Was a Man," a film about a hermaphrodite that bears the tagline "The Body of a Man, The Feelings of a Woman."
We especially admire Elkann's dandyish sense of superiority. Although he made his mark as Fiat's promotions manager by splashing the Fiat logo on everything from clothing and accessories to comestibles and potables, today he disdains such vulgar display — at least for himself. When it comes to his own clothing and accessories, Elkann says, "No logo, and you don't advertise for anyone. I don't believe in imposed luxury. I believe in built luxury. Something you refine with your own taste. Mass luxury is not my luxury."
Lapo's luxury makes him a dandy deluxe and has earned him D.net's acclaim as 2007 Dandy of the Year.